Meet Leonardo Chop: SZA's Art Director Behind Her Most Iconic Single Covers And Coveted Merch
The St. Louis native also discusses his own brand Hazelwood, touring with Pharrell and Drake, and his journey through music and fashion.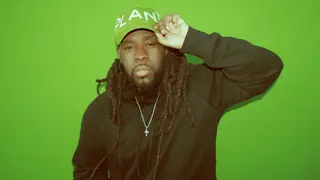 Jas Bell's journey to being a style visionary in hip-hop came from being in the periphery of greatness for years.
The 31-year-old St. Louis native began his foray into the music and fashion businesses as a roadie for N.E.R.D. back in 2008 while they were on the star-studded Glow in the Dark Tour, headlined by Kanye West and featuring Pharrell Williams' indie hip-hop trio along with Rihanna, Lupe Fiasco, Nas and Santigold. While the experience didn't necessarily offer many opportunities for career progression, it did provide a world-class education into how some of the best artists in the culture create.
During an interview with BET.com, Bell notes that his formative years in the creative world were directly inspired by being around Pharrell and watching his process.
"It really inspired me from a creative point, immensely. Seeing him up close and being able to observe the stuff that he was doing and working on at that time, it was so next level," he says. "I learned from being in that environment and just kind of cultivating culture and how things should look, how things should be presented."
After touring with Pharrell and N.E.R.D., Bell moved to Georgia and attended the Art Institute of Atlanta to study audio engineering. It's also where he transformed into Leonardo Chop, who he's recognized as today. The moniker is a combination of his favorite artist Leonardo da Vinci and the "C Hop" nickname he had previously gone by. Establishing an artist's name was important because it was a musical career Chop was pursuing at the time, not one of fashion and design.
Soon after he graduated, Chop moved out west to pursue music full-time, where he toured once again with a hip-hop megastar.
"I landed in L.A. trying to be a rapper and I ended up being a roadie for Drake for four years. I don't know how that happened," he says.
Chop explains that his experience with the Toronto rapper, beginning on the Club Paradise Tour in 2012, was an education in work ethic – seeing the endless hours he put in preparing behind the scenes for shows and recording music.
"This guy would be preparing for shows like an NBA Finals game," he describes. "He took it serious. I think the work ethic is what I picked up from just being able to observe that from afar."
Leonardo loved music, but it didn't inspire him. His lengthy interest in graphic design and Pharrell's ability to mix fashion and music started to click in his mind.
"I started to ask myself, what am I doing?" he says. "Like, am I lending myself in the right direction that's feeding me creatively?"
After his four years of touring came to a close, Chop used the experience he gained from being around Pharrell and Drake, among others, to take designing more seriously, with music still being at the very center of his world. He moved back to Atlanta, where he connected with Smino, a fellow St. Louis-born rapper, and began working on his merch.
That's where his life changed forever.
After designing a highly-successful hoodie drop for Smino, the rapper ended up opening a show for SZA for the Ctrl Tour in 2017. During the concert, Chop ended up meeting the platinum-selling singer via his cohort and says their bond was instant. Soon afterward, he started working on projects for her, including Sustainability Gang – a line of Ctrl-inspired sweatshirts, t-shirts and tanks featuring sayings like "Puck Flastic" and "Sustainability Gang" with the proceeds going toward sustainable efforts geared at protecting the oceans.
Chop would also later become a major fixture in the singles SZA began dropping for what we now know as her highly-anticipated sophomore album S.O.S., led by "Good Days." The song's iconic artwork features a picture of the singer as a young child with the cut's title and a tear tattooed to her forehead and below her eyes. The concept, Leonardo says, was inspired by a member of SZA's family and what was going on in the world at the time.
"We were in a pandemic and that record was actually an ode to her grandmother, so she wanted something to reflect who she was as a child, but also where she's gone," he explains of the record that was released on December 25, 2020. "That teardrop tat, it's reflective of what we were going through as a community and as a nation and as a world at that time. We had lost so many lives to COVID. For it to be received the way that it was, it made all of us super emotional."
Then came "I Hate U", another mega-hit that dropped nearly a year later. Chop says the idea for the S.O.S. single's cover, which simply features a screenshot of a text message to the Top Dawg Entertainment singer reading the song's name, was done quickly out of necessity due to its immediate social media success.
"We did that [artwork] in like three days because the song had took off on TikTok. She immediately hit me like, 'We need cover art now!'" he recalls. "We started doing like a note initially, and then she's like, 'Know what, nobody writes notes anymore saying I hate you.' I'm like, usually girls leave a voicemail. She's like, 'What about text message?'"
Most recently, SZA released "Shirt", her third and final single from S.O.S. that dons a cover featuring a blood-stained white shirt. Leonardo notes that it was once again a situation where simplicity took over the creative process.
"The name of the song wasn't even 'Shirt.' It was actually supposed to be 'Blood Stain' and when she put out that snippet, she's got this dope way of teasing new music," he says. "So the visual song came when we did the 'Good Days' video and she put a snippet for it at the end and so while people were listening to 'Good Days,' they're like, 'What the f**k is the song at the end?"
"Me and her bro, it's like Jordan and Pippen, Kobe and Shaq. It's super easy and I think we trust each other – she trusts me and I trust her creativity. So whenever we create it just meshes," he adds. "Whenever I do projects it's always important for me for the merch to be just as fire as whatever the record was. I also feel like the music should tell a story and reflect in the merch."
Leonardo Chop is also very successful with his own brand Hazelwood, which is inspired by his high school alma mater in St. Louis. One of the themes featured on some of his newest clothing drops is "still learning" which he says comes from his own journey of taking in what artists like Pharrell, Drake and SZA have done for him over the course of his career.
"I try to convey a message that these are our uniforms. These are the uniforms that we're going to kill s**t with," he explains. "Because no matter how big we are; one thing I learned from Pharrell is to always be a student. No matter how big you are, what you've done, always be a student."
"TDE deserves their rings, they have rings. TDE should be heralded as one of the greatest labels of all time," he says. "So when I made the Lakers piece, I'm like, man, you know, give TDE their flowers, and championship rings."
SZA's S.O.S. is slated to be released tomorrow (December 9). Leonardo Chop says to expect evolution, greatness and music that comes from her soul.
"This is a completely new era. She's still true to her roots but she's like big SZA now. She's a big dog," he says. "I think when people hear what she got, I feel like they're going to be pleasantly surprised. It's still going to be true to what you know as her.
"Just think about how much she has to talk about her progression from Ctrl to now. She's a grown woman now," Chop adds. "All I'm going to say is: Album of the Year."
Presave SZA's new album S.O.S. here.