Chris Brown: My Music Tells My Side of the Story
"X" marks the spot where the singer puts all the drama to rest.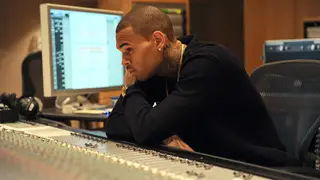 It's an understatement to say that, for the past four years, it's been difficult for Chris Brown to separate his music and celebrity from his personal life. But that hasn't kept the 23-year-old from pushing through the tabloid and blog headlines to remain R&B's top performer, winning his first Grammy last year for his fourth studio album F.A.M.E. Now, on the heels of his 24th birthday, C-Breezy is preparing to release his latest LP X. BET.com sat down with the R&B mega star to discuss his latest project and his place in the musical landscape.
What direction are you aiming to go in for this next album, X?
I just wanted to go and write personal records about what I've been going through, whether it's been heartbreak, joy, sorrow or anger [laughs]. Anything. I would just rather let my people and my fans identify with who I am as a person. For this album, I really just wanted to focus on my talent and everything I have to bring. And I also wanted to go back to the essence of where my inspirations were derived from: Stevie Wonder, Michael Jackson, etc. And I want to build that essence within my brand and in who I am as an artist.
What were some of the things or moments in your life that inspired songs on X?
Well, the title track for the LP, "X," the concept was inspired by different things. I came up with the concept because the letter stands for a kind of forbidden fruit. You see it with the skull-and-crossbones. It's also the Roman numeral 10. I wanted to do it for my birthday. Five, Five (May 5). X is also the 24th letter in the alphabet, and I'm turning 24. Other songs like "Add Me In," the inspiration for that was, basically, women. I'm just saying let me basically be added into to your equation.
Who did you work with for this project?
I worked with a lot of young producers. I like to give new producers a chance. I worked with Timbaland and Pharrell [Williams]. But I also worked with producers like Diplo, PK and D. Brown. I went all around the board with this album to try and make it dynamic. I know a lot of people who make up my audience think I'm going to have a set amount of music on the album or I'm going to go have the formula of pop songs and "four-to-the-floor" types of songs. I really just tried to make music this time instead of focusing on a genre. For this project, I wanted to, almost, go back to the first album.
So instead of going with the "business" formula, you wanted to approach it from the heart?
Yes. Definitely. Because that's what music is: it invokes your emotions. You don't think logically about a song. You just feel it.
What are your thoughts on the debate about techno-pop dance music versus traditional R&B?
I think the debate is how cornball it is. I'll be honest, since I've been one of the guys subjected to doing it with songs like "Forever" and other songs I've done. They were great songs but they're not the typical dance — if you're a Black guy — type of songs. You know, things change, though… But with the tech-pop dance sound, it's cool but I think it's going to get played out almost how disco did in the '70s. I mean, everything has its course, and music is always changing and evolving. So, for the time being, it's still cool. As far as my music, I'm trying to — not trying to stay away from it, because if a song's a hit, it's a hit. But I'm not trying to run towards it or look for it and say, "Give me that BoomBoomBoom." We'll figure it out as it comes.
You've put out six albums in eight years. Do you see yourself taking a hiatus?
Honestly, no. Taking a hiatus allows people to come in and take your spot [laughs]. You take a hiatus when you've accomplished your ultimate success. I think my ultimate success is yet to come.
What do you think your ultimate goal is?
One of my goals was to get a Grammy. Then I achieved that. Thank God. The other thing would be — and I know it's impossible — to get a little more acceptance as far as my music is concerned. I know there are people who love my music. But I want them to listen to my music with a clear mind instead of, um…
Being clouded by…?
What's in my personal life. I think, now, the music speaks for itself. So hopefully I can achieve that.
Do you find, as time moves forward, that it's getting easier for people to separate you from the tabloid news and see you for you?
I think with the media and the way the world works now, it's all Internet driven. So your personal life co-exists with your celebrity. People want to know about you and who you are. They want you to be attainable. With my personal life, I try and incorporate my music with it so if people are looking at a story or following any BS they may be listening to [about me] they can always go back to the record and hear my side of the story or my point of view.
BET.com is your #1 source for Black celebrity news, photos, exclusive videos and all the latest in the world of hip hop and R&B music.
Click here to subscribe to our newsletter.    
(Photo: Frank Micelotta/PictureGroup)