H&M, Levi's And Other Brands Have Created Collections Encouraging People To Vote
Brands launched initiatives or released collections that aim to encourage voter registration and provide essential resources to improve turnout.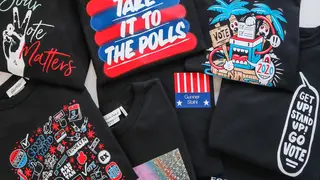 With less than two months left before the 2020 presidential election, several major fashion brands and designers are working to encourage their customers to vote.
Many have teamed with organizations such as Rock the Vote, I Am a Voter and When We All Vote for their initiatives, which help customers register to vote and provide them with essential tools ahead of the election.
Others have designed limited-edition collections or pieces inspired by the election, with proceeds benefiting various organizations.
Below, we are highlighting 6 brands that have created collections encouraging us to get out and vote!
H&M

H&M has partnered with artists in local communities to create a limited-edition collection for National Voter Registration Day and in support of voter's rights.

The H&M Votes x Blanks Artist Collab pays homage to various artists' hometowns and highlights the importance H&M places on support of local communities around the country where its collaborators, customers and employees live and work.

Artists who participated in the collaboration include Baron Von Fancy and Sophia Chang of New York City, Sheila Rashid of Chicago, Gunner Stahl of Atlanta, Greg Mike, founder of ABV AGENCY + GALLERY, of Florida and Reality To Idea by Joshua Vides of Los Angeles.

H&M is a brand that believes in people, and chose one of their own, employee and artist Trevonne Deveaux, as the seventh collaborator for the collection.

The limited-edition pieces are meant to underline the importance of using your voice for change and to encourage customers to exercise their right to vote this fall. The H&M Votes x Blanks Artist Collab aligns with H&M's larger Voter Registration initiative, launched on September 1st, which focuses on providing education on voting rights, as well as voter registration access to both H&M staff and customers leading up to the 2020 election.

The artist's voter tees start at $18 and will be available for purchase online at hm.com and H&M locations in their respective hometowns.

Billionaire Boys Club

Pharrell Williams' streetwear Billionaire Boys Club will be hosting a voter registration drive at the Miami location this Friday, September 25th.

The registration, being held from 3:00 PM – 7:00 PM, will be complete with iPad stations for voter registration, a DJ in the parking lot, photobooths and of course, hand sanitizer, temperature checks, and mask enforcement. The store will be offering a 30% discount on Miami exclusive pieces during the event.

TOMS

TOMS has partnered with Vote.org and is taking to social media to encourage youth turnout in the crucial election. With help from activists such as Brea Baker and Landon Moss, TOMS and Vote.org are excited to engage with the public to make sure everyone is #VoteReady.

In addition to the social media campaign, TOMS has also launched a suite of voter registration tools on their website encouraging visitors to register to vote, check their registration status, request an absentee ballot, see each state's specific mail in deadlines, and sign up for election reminders.

LEVI'S

Levi's® launched the #UseYourVoice LIVE series as a platform for spreading voter education and increasing engagement, while helping to improve voter turnout by reducing obstacles and encouraging young people to take action.

The series will feature activists, scholars, and organizers from the PSA, along with thought leaders from the 23 voting rights and engagement organization grantee partners that Levi Strauss & Co. and the Levi Strauss Foundation are donating a collective $2.6MM towards in 2020.

These efforts will work to remove barriers and improve access to the polls, mobilize voters in marginalized communities, and engage voters in the democratic process before, during, and after Election Day. The campaign does not advocate for candidates or political parties -- its aim is to shift the conversation from people to principles.

T-shirts, hoodies, and tote bags start at $30.

Kate Spade New York

Kate Spade New York has partnered with Rock the Vote to offer educational resources to their shoppers. 

Starting today, on National Voting Registration Day, the fashion brand will be posting key facts, reminders and tips to educate its community on the importance of voting. 

Kate Spade New York will also be releasing giphy stickers on Instagram timed to Voting Registration Day and Election Day for those who want to proudly share their own voting content!

keds x brother vellies

The classic Keds Champions are the foundation of the collab and come with customized When We All Vote laces, a Brother Vellies charm and a message handwritten by Brother Vellies' creative director and founder Aurora James. The sneakers retail for $95 exclusively on the Brother Vellies website.

Odell Beckham Jr. x More Than A Vote

Odell Beckham Jr. launches "Vote" T-shirt supporting More Than A Vote and Reform Alliance Organizations.

In a press release, the Cleveland Browns wide receiver says, "Now more than ever is the time to engage with our communities and mobilize others to speak up and cast their vote on election day. Systemic oppression and social injustice isn't new but recent images and videos have shown us how prominent they are. There is a drastic effort to deny us our right to vote but we MUST—by mail or in person.  I am someone who at one point was indifferent and thought that no matter who was in office, nothing would change. But these past few months have changed my perspective. We need our voices heard and we need to hold our elected officials accountable."

A limited edition capsule collection of eight designer tee's in both men's and women's silhouettes dropped this month on Park Madison NYC online store and were created to encourage everyone, including young people, to register to vote, apply for the absentee ballot and vote. Styles are available now and prices range from $32.50 - $34.99.