Beyoncé Celebrates Lemonade Anniversary With Limited Edition Goodies
Quench your thirst!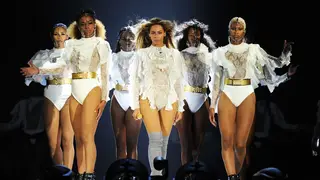 After celebrating the one-year anniversary of the Lemonade album in April, Beyoncé is wasting no time in filling our cups and quenching our thirst for all things her because she just dropped all-new swag on her website.
We all know that Queen B's sixth studio album was more than a hit, it was a movement, and with the announcement of this Collector's Edition How To Make Lemonade Box Set on sale for pre-order, everyone is in Formation to have a piece of HERstory.
The limited edition box set retailing at $300 is estimated to ship this summer and features a 600+ page collector's edition hardcover coffee table book with never-before-seen images and themes of the making of Lemonade, double vinyl LP, and audio and visual album downloads. Bey even shared personal writing and lyrics!
Don't have a huge budget to hold a piece of herstory? Or just want something wearable? No worries, BeyHive! The queen has you covered with some Lemonade chic clothing and accessories!
The Queen made sure that no one misses a chance to be a part of the celebration of her greatness. We know that everyone is going to be adding these items into their summer wardrobe. What's the hold up? What kind of anniversary item are you going to #slay?