Alexis Skyy Finally Confirms The Identity Of Her Baby Daddy
Masika will have a lot to say about this.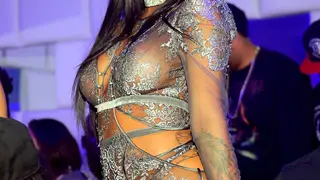 Love & Hip Hop Hollywood newbie Alexis Skyy is happily chronicling her new journey in motherhood. In a recent Instagram post, the newly expectant mama-to-be showed off images from her most recent prenatal appointment while shouting out the father of her child, her on-again off-again boyfriend, Fetty Wap.
This post marks the first official time that Alexis has acknowledged the "Gotta Blast" rapper as her child's father.
Back in September, Alexis confirmed news of her pregnancy without any mention of who the father of her child was.
It's been a rocky road for Alexis Skyy and Fetty Wap. The on-again off-again couple dated for several years before officially calling it quits when he had a child with LHHH star Masika Kalysha. Alexis even went so far as to have her neck tattoo of Fetty's name covered with a feather.
Deets on how Alexis Skyy and Fetty Wap rekindled are scarce. The couple has since followed one another on social media, so it's safe to say that all is well between the expectant parents.