Black TV Anchor Compared To Gorilla On Live TV By White Co-Host
Alex Housden said an ape "kind of looks like you" to Jason Hackett.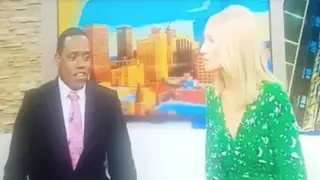 It didn't take long for a morning anchor for an Oklahoma television station to flip a light-hearted segment about a gorilla at the Oklahoma City Zoo to an offensive racist moment by comparing the ape to her Black co-anchor.
KOCO-TV anchor Alex Housden is under fire for comparing her African American co-host to a gorilla on live television. 
During a live broadcast last Thursday, Hackett said, "You can tell that he was ready for his close-up," when referencing the ape, named Fin, who was staring into the camera. 
"Kind of looks like you," Housden replied.
Hackett responded after a brief pause, "He kind of does, actually, yeah."
The following day, Housden sat on a couch next to Hackett for an on-air apology. 
"I said something yesterday that was inconsiderate, it was inappropriate, and I hurt people," Housden said. "I want you to know I understand how much I hurt you out there and how much I hurt [Hackett]."
Calling Housden one of his best friends, Hackett accepted his co-anchor's apology, but did reveal her comment hurt his feelings.  
"What she said yesterday was wrong," Hackett said. "It cut deep for me, and it cut deep for a lot of you in the community."
Hackett declared how "words matter," calling the apology a "teachable moment."
"We're becoming a more diverse country, and there's no excuse. We have to understand the stereotypes. We have to understand each other's backgrounds and the words that hurt, the words that cut deep," Hackett said. "We have to find a way to replace those words with love and words of affirmation as well."
Although Hackett buried the hatchet, viewers weren't so forgiving. 
One Twitter user demanded the firing of Housden for her blatant racism.
Hackett is one of two Black anchors the KOCO 5. 
As of Monday morning, neither KOCO 5, Housden or Hackett have issued any further comment on the incident, or the outrage it sparked.