WATCH: 'Snowfall' Season 6 Trailer
Franklin Saint's story is coming to an end.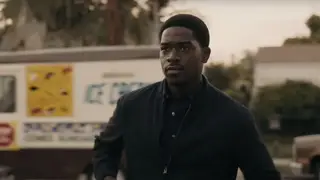 Snowfall is ending, and the Season 6 trailer has officially dropped.
On Thursday (Jan. 12), FX dropped the trailer for the final season. According to the official synopsis, the farewell  episodes will pick up in October 1986, as "civil war threatens to destroy the Saint family. Franklin (Damson Idris) is desperate, forced to rob his Aunt Louie (Angela Lewis) and Uncle Jerome (Amin Joseph) after being wiped out by former CIA officer Teddy McDonald (Carter Hudson). Meanwhile, Louie has taken over Franklin's role as Teddy's sole buyer, undercutting her nephew and creating a competing empire in the process."
Snowfall returns to FX on Feb. 22 at 10 p.m. ET with a two-episode premiere. The following episodes will drop every Wednesday and be available on Hulu on Thursday's.
The series first premiered in 2017 and was co-created by Eric Amadio, Dave Andron, and the late John Singleton, who also served as an executive producer.