Damson Idris and FX Announce 'Snowfall' Season 6 Will Be Its End
Season 5 is currently airing after premiering on Feb. 2022.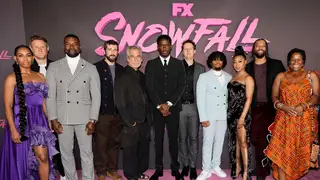 John Singleton's Snowfall will officially end with its last season expected to premiere in 2023.
According to Entertainment Weekly, the FX crime drama was renewed for its sixth and final season on Tuesday (Apr. 5). The highly-anticipated fifth season will wrap up later this month with the season finale premiering on April 20.
Snowfall, which stars Damson Idris, first premiered in 2017 and is set in the 1980s during the crack epidemic in Los Angeles, California with Idris playing Franklin Saint, a young drug kingpin coming into his own.
"I couldn't imagine telling this story anywhere but at FX. I'm incredibly proud of the history we have all made. Especially the impact Snowfall has had on the culture," said Idris in an official statement announcing the news. "Very rarely does a TV show get to the sixth season mark and saying goodbye to 'Franklin Saint' will be heartbreaking. But the family and relationships I've made on this journey will last a lifetime. I know John Singleton is looking down smiling proud."
"To tell a story worth telling, with creative partners you respect and admire, at a network that supports you throughout and allows you to end on your terms. That's the dream," Andron added. "I am so grateful to everyone at FX from John Landgraf on down and to the entire Snowfall family for helping us get there. If only John Singleton could be with us for the end."
Snowfall airs Wednesdays at 10 p.m. ET/PT on FX. Episodes also stream the next day on Hulu.