Beyond Repair? Here's Why Iyanla Vanzant Reportedly 'Gave Up' On Trying To Fix The Braxton Family
The ladies may be too much for the fixer.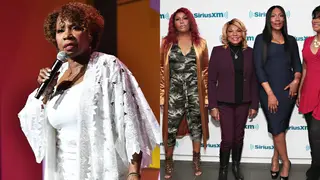 The Braxton sisters have reportedly enlisted the help of infamous life coach Iyanla Vanzant to assist in their heavily documented family dysfunctionality.
While the episode featuring the Fix My Life host is scheduled to air during the show's season finale, recent reports indicate that the process didn't go as planned.
According to theJasmineBRAND.com, the taping, which reportedly already took place, saw Vanzant sit down with Towanda, Toni, Tamar, Traci Braxton and their parents, Evelyn and Michael Braxton, and it was anything but smooth sailing.
The site reports that the session with Vanzant didn't go over well with some of the members of the family to the point where their problems were allegedly worsened, in the process.
The OWN TV star's involvement was reportedly introduced by Traci Braxton, who wanted the life coach to facilitate in having her sisters support her career more.
One of the sisters may allegedly share the footage of the dysfunctionality on social media, before it airs on the show.
This all comes on the heels of reports that all of the sisters, with the exception of Traci, quit Braxton Family Values over a pay dispute.