Chezik Tsunoda, Mother Of Drowning Victim, Turns Heartbreak Into Powerful Documentary
The journalist and filmmaker talked to BET about healing and advocacy.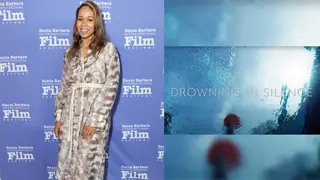 In September 2018, journalist Chezik Tsunoda's life changed. Her son Yori died after a tragic drowning accident. However, Tsunoda put her sorrow into the powerful documentary Drowning in Silence, which is available to rent or own on DVD and digital HD internet. The film is a beautiful tribute to her son but also a call to action for Black communities to incorporate water safety into their daily lives. Sixty-four percent of African-Americans have no swimming ability. In addition, fatal drowning is the leading cause of death for children one to four, according to the CDC.
With May being National Water Safety Month, we spoke with Tsunoda about the film and her fight for water safety.
BET: The film centers around you losing your son, who drowned. Has the film helped your healing process?
Chezik Tsunoda: My son Yori drowned in a backyard pool when he was three. It's a very lonely process, grieving, especially for a child. With my film, I reached out to other families who had that experience – whether it's a child that has died, or they're caring for a child who had drowned and survived. For every child that dies from drowning, eight survive, and often have long-term impacts. There's some guilt and shame around it – I could have put a life jacket on my kid and he might still be here. Leaning into that was necessary. I also connected with a woman named Chandrika who works with BIPOC folks around our trauma in water. For sure, the film overall, it's helped me. It's still a struggle, but the film helped me.
BET: You're a journalist, but this must be interesting as a filmmaker because you're also the film's subject matter. How did you balance being a journalist but also being the story?
Chezik Tsunoda: I'll tell you... you don't want to be in your own story. The emotional journey that I take you on, was definitely encouraged by my team, just as far as being as transparent as possible. I had some recordings that happened in real-time when I was with my son in the hospital. We poke into those moments. It's a little uncomfortable, honestly. I'm out there. But I think it's important for people to see real life to understand the real. We're so much on social media – everything is okay and not always okay. This film, it's heavy, but it's also helpful because I can channel my pain into purpose. The film is an example of how you can come out of something like this and make a difference.
BET: In the film, you talk about the history of segregation in swimming pools and how that connects to the idea that many of us can't swim. It's rooted in some serious history.
Chezik Tsunoda: It is. When we were allowed in the pools, they shut them down. So that is when all of the backyard pools started opening. That's when the country clubs began opening because they did not want us swimming with them. There are many things, even our men being around women and their white women in bathing suits. There's so many levels to this. The statistic is you are only 13% likely to learn how to swim if your parent does not know how to swim. In the film, one of the women takes it back to the slave trade – we're just trying to stay away from the waters so that we don't get taken. It's a long history, so it is time for us to claim what's ours. Back in the day, we did know how to swim - that was part of gathering food and that was stripped away from us. It is time that we claim it back.
BET: Talk to me about the involvement of Byron Allen. The film is distributed through his media group.

Chezik Tsunoda: I feel so grateful, honestly, because this film is challenging. We don't have any celebrities attached. Byron stepped in, luckily, and acquired the film through his distribution platform. We're so grateful because the film is now available on Apple TV and Amazon. It's out there, and I hope people will watch it. We're just grateful that he could pick it up and get it out there to the masses for consumption.
BET: You also started a non-profit for equity and aquatics.
Chezik Tsunoda: About a year after Yori passed away, I started this film and a nonprofit organization called No More Under. We've been leaning into water safety and those that need it most. So with the organization, we are currently in Washington State, hopefully looking to expand to more. We are giving free swim lessons to under-resourced children and we're working with low-income housing, organizations and foster care. Children that would not typically get swim lessons and have access – we are providing access and helping with transportation. We are at the root of who needs it, tapping in and ensuring they know how to stay water-safe while incorporating drowning prevention and awareness into those lessons.
BET. You've also had an impact on policy. Talk to us about your Yori's Law.
Chezik Tsunoda: Yori's Law was my partnership with Representative April Berg. I'm in the Seattle, Washington area. She heard my story and understood the need. So right now we're baby stepping towards education and mandating education – and hopefully one-day swim lessons in schools, that way no child could be left behind. Yori's Law states that May 15 is Washington Water Safety Day. Anyone who touches the life of a child should be encouraged to talk about water safety talk about what to do if you are drowning. So we need that same mentality of every time you get in a car, you buckle your seatbelt. Every time you're near open water, you wear a life jacket. We need some of these things around water to be intrinsic.
Drowning in Silence is available now. Watch the trailer below: