Opinion: It's Truly Janelle Monáe's Age Of Pleasure And We're Just Blessed To Be Living In It
This is not an album; it's a lifestyle and a love letter to the LGBTQ community.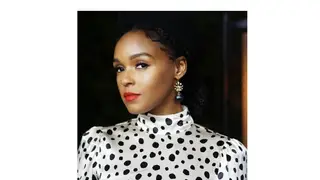 Janelle Monáe's newest release, The Age Of Pleasure, is a sonic tapestry woven with vibrant threads of varying genres. It's an all-encompassing musical soiree, evoking the sweetness of an intimate whisper, the excitement of a chance meeting across a crowded room, the warmth of community, and the spirit of a lifestyle. The only complaint? It's breathtakingly short. The non-binary artist gifts us a timeless album that glides smoothly through self-discovery, self-love, self-desire, and pleasure.
Monáe's vision for The Age Of Pleasure transcends mere auditory enjoyment; they aspire to create a haven for listeners, especially for the queer community, whom they affectionately call their "family." Amid societal discrimination, ranging from censorship of queer authors to violence against transgender individuals, Monáe's candid exploration of their pansexual, queer identity serves as a powerful rebuttal to prejudiced critics.
With The Age Of Pleasure, Monáe appears to be shedding societal burdens, rejecting the presumption that anyone else should have authority over their body. The album's message is clear: being queer is a joy, and this musical work is an affectionate message to LGBTQ individuals who may feel marginalized or undeserving of their beautiful life.
The lead single, "Float," demonstrates Monáe's creative liberation as they ascend free and unshackled. The track begins with a potent message, dispelling preconceived notions about their artistic persona: "No, I'm not the same, n*gga." Monáe, through their music, stands defiantly before us evolved and unfettered.
Monáe's evolution was evident at the 2023 Met Gala. Dressed in an oversized, Karl Lagerfeld-inspired coat, Monáe boldly undressed to reveal a stunning bikini ensemble beneath a sheer hoop dress. This audacious display is mirrored in the sound of The Age Of Pleasure.
This fifth studio album surpasses the conventional definition of an album. As Monáe expressed during an exclusive listening event in Los Angeles, "Thank you so much for supporting a soundtrack of a lifestyle, not an album, because this is a lifestyle. We live this. We breathe this. We are this. You are this."
The album features tracks like "Champagne Sh*t," an energetic summer anthem that encapsulates Monáe's uninhibited queer expression. The Age Of Pleasure flows seamlessly from one track to the next, immersing the listener in a vibrant party orchestrated by an extraordinary DJ, stirring your soul.
Monáe's "Phenomenal" ft. Doechii addresses the beauty of personal evolution and self-acceptance. Each phase of our life is worthy of love and celebration, reminding us that growth doesn't necessitate the devaluation of our previous selves.
Monáe's daring authenticity extends to their visual aesthetic. Having set aside their signature black and white outfits, they now stand before us, unabashed and free. Monáe's confident presentation of their body underlines the pleasure they've promised us. The album's visuals are a testament to this, as is Monáe's self-assured declaration on "Phenomenal": "I feel so phenomenal."
In "Paid In Pleasure," Monáe sets a powerful precedent, demanding pleasure as recompense. This unapologetic expression of desires by a queer, Black non-binary person is profoundly empowering.
The musical journey through Monáe's Wondaland employs empowering mantras, encouraging unwavering self-love. The Age Of Pleasure is a living testament to this notion of loving oneself resolutely.
During the album's debut event, attendees encountered posted guidelines essential to fostering a safe space. These rules encouraged a focus on the present moment, setting the past behind and leaving the future undetermined, mirroring the essence of the album's lifestyle. The Age Of Pleasure is not about borrowing from the past or future but immersing oneself in the present. When Monáe declared, "We breathe this," at the event, they highlighted the dynamic nature of this lifestyle, an open space for exploration and pleasure.
Monáe emphasizes the urgency of deriving pleasure from life with their final ground rule for The Age Of Pleasure parties: "Hurry up and live." Having lived through a pandemic, the fragility of life is all too apparent. Pleasure is a birthright to be urgently pursued. Monáe embodies this principle, offering themselves as a muse of pleasure for the world.
"I like to love with my eyes closed," Monáe passionately croons on "Only Have Eyes 42," a sensual track expressing their desire for multiple lovers. Monáe's boldness and authenticity are the sweetest aspects of their game.
Featuring artists like Nia Long, Grace Jones, Sister Nancy, and Seun Kuti, The Age Of Pleasure is Monáe's most enticing release yet, teeming with delightful surprises and sounds that take you on a globe-trotting party.
The primary complaint about the album is its brevity. Monáe conceives it as a lifestyle where we want to dwell permanently. However, replaying The Age Of Pleasure is the only solution, with only 32 minutes and 4 seconds of this aural glory. It's a timeless piece, an instant classic, a slice of sonic liberation. Creative forces like Janelle Monáe, who craft entire worlds with their art, are a treasure we must cherish and protect.