'The Breakfast Club' Weekly Recap: Devon Franklin, Janelle Monae & More Stopped By
DJ Envy and Charlamagne tha God cover the week's hot topics and kick it with guest co-hosts Jess Hilarious, Claudia Jordan, and 85 South.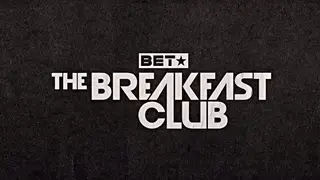 It's another week in the books for The Breakfast Club on BET! As usual, there was another robust roster of guests, including Devon Franklin, Tamika Mallory, Janelle Monae and more. DJ Envy and Charlamagne tha God kicked it with guest hosts Jess Hilarious, Claudia Jordan and the hosts from the 85 South Show. If you missed it, here's a quick rundown of how the week went down.
Claudia Jordan guest hosted on Monday and one of the hot topics was Kanye being spotted yelling at paparazzi outside his home while he was with his wife and son. DJ Envy empathized, saying that people need privacy, especially with their families, and that being a celebrity shouldn't exempt that.
There were more jokes and innuendo on Monday as there was a moment when Charlamagne explained that DJ Envy likes to hug him from the back. Claudia quipped that it's like Pride Month every time she shows up, and it's the only place she has worked where the men haven't sexually harassed her. It's all in fun, though.
Jess Hilarious and Jordan co-hosted on Tuesday, and of course, there were more jokes. Charlamagne got Jess to admit that she has shoplifted before. She had the nerve to say she never shoplifted at Dillard's, but Macy's, Nordstrom and Walmart definitely got some visits from her. You already know that Charlamagne wanted to know how on earth she could be too good for Dillard's when she was doing something as low vibrational as shoplifting.
Anyway, Tamika Mallory came through on Hump Day to discuss her activism, the AJ Owens case, creating more diversity in businesses, and how there's a lot of work to do to keep the country from falling into a complete abyss, which is where we are headed, according to her. The thing about The Breakfast Club is that they try to balance the real with the fun.
The co-hosts from the 85 South Show rounded out the week by joining DJ Envy and Charlamagne tha God as guest co-hosts on The Breakfast Club. They entertained calls from guests, covered hot topics and erupted into jokes that always devolved into a cacophony of laughter.
Finally, Janelle Monae stopped by to wind down the week. She discussed her journey as non-binary, new music and more.