Mystikal Charged With Several Felonies, Including Rape And Battery
The rapper was booked into a Louisiana jail on Sunday afternoon (July 31).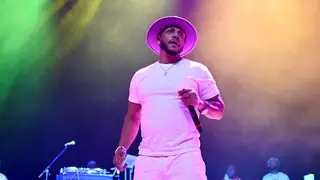 Rapper Mystikal, who has dealt with sexual assault charges before, is now facing multiple felonies, including rape and battery.
According to The Advocate, the New Orleans-raised, 51-year-old rapper, was arrested in the suburban Baton Rouge area of Ascension Parish, L.A., on Sunday (July 31). His charges include first-degree rape, strangulation, and other counts he's facing, says the sheriff's deputies.
The "Danger" rapper was picked up by Ascension Parish deputies after they spoke with a sexual assault victim at a local hospital. Deputies say Mystikal (real name Michael Tyler) forced the woman to give him money following a dispute over finances. They also stated that the woman had minor injuries.
RELATED: R. Kelly's Sisters Argues His Prison Sentencing Was 'Racist'
Mystikal has also been booked with counts of simple robbery, false imprisonment, and simple criminal damage to property, deputies said.
He remains in Ascension Parish Prison through Monday, where he awaits the setting of bail.
Tyler has had a long rap sheet for sexual assault. In 2003, he pleaded guilty to forcing his hairstyle to perform "continuous sex acts," an incident that dates back to 2002. He served six years in prison. Initially, he denied any involvement with the woman and spent 18 months in jail before being released on a $3 million bond.
In 2016, he faced first-degree rape and second-degree kidnapping charges, but charges were dismissed in 2021.
During an interview with the Associated Press, he looked to turn his life around and expressed a bit of embarrassment for past lyrics in his songs.
"When I look back and listen to the music, man — I was a nasty lil' rapper!" he said. "A lot of my music now, I imagine myself rapping it to God and if I can rap it, I'm proud."
At the time of the interview, he said he learned from the 2003 situation.