[Watch] Gotta See the Unique Handshakes This Basketball Coach Has With Every Player on the Team
This will be a viral sensation.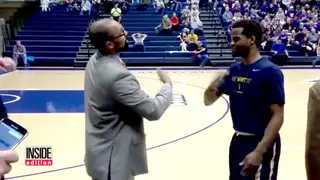 You'd be hard-pressed to name a cooler college basketball coach than Stephen Garnett.
The Whitman College assistant coach received his five minutes of Internet fame when a clip of him shaking hands with his players splashed onto social media.
But wait... Garnett doesn't have just one handshake for one player. He has a unique handshake for EVERY player on the squad.
Right down the line, one by one, you're able to see Garnett do everything from salute his players to fist bump them, dab, bow down, stir the pot and straight out dance with them.
First of all, the memory this guy has is unreal, to be able to remember which handshake to do with each player from the Walla Walla, Washington, school. Secondly, he pulls off each unique pre-game handshake in a suit with the utmost of ease.
Garnett told Inside Edition the handshakes "gets them hyped" and that it's "the closest I can to being out there on the court."
Mr. Garnett: you, sir, are one of the most realest coaches in college basketball. Definitely the most entertaining.
BET Sports News — Get the latest news and information about African-Americans in sports, including weekly recaps, celebrity news and photos of your favorite Black athletes.
(Photo: Inside Edition via Youtube)