Comic-Con International San Diego: The 6 Most Iconically Black Moments At The 2019 Event
We're officially giving Marvel the hashtag #MarvelSoMelanin.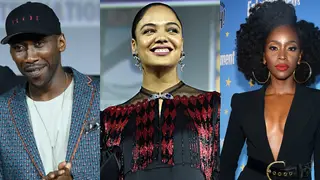 We have arrived, and the spotlight is on us!
In case you haven't noticed, gone are the days when finding Black superheroes are few and far between, and that cannot be more apparent than at this year's Comic-Con International: San Diego.
The fact that Marvel is making a conscious choice to provide diversity with powerful Black superheroes alone has us in our feelings!
In the words of Lena Waithe: "Sh*t. Just. Got. Real."
Recently, the Master of None actress/producer took to Twitter to celebrate the growing display of #MelaninMagic set to take over the big screens!
"Captain America is black. Thor is a woman. The new Blade got two Oscars. 007 is a black woman. And The Little Mermaid bout to have locs," she tweeted.
Preach, sis! As we continue to ride the high of receiving the representation we deserve, we've decided to highlight the most iconic Black moments at the 2019 Comic-Con International: San Diego.
Marvel Announces First Out LGBTQ Superhero On Film Played By Tessa Thompson

According to Hollywood Reporter, Tessa Thompson's character "Valkyrie" will be Marvel's very first out LBGTQ hero on film in the upcoming Thor movie—and it's an entire mood!

As you may know, in the movie Avengers: Endgame, Valkyrie assumed the role of the ruler of New Asgard, and now she's ready to find her queen.

"As new king [of Asgard], she needs to find her queen. That will be the first order of business," Tessa said during Marvel Studio's Hall H panel at Comic-Con.

Thor: Love and Thunder hits theaters Nov. 5, 2021.

Teyonah Parris Secures Her Seat At The Marvel Table

Yet another win for representation! Marvel Studios revealed during their Comic-Con panel that Dear White People actress Teyonah Parris will play an adult version of Monica Rambeau in their upcoming Disney+ series WandaVision.

ICYMI: Earlier this year, Monica Rambeau was introduced in the Captain Marvel movie, played by child actress Akira Akbar.

Sis is securing her seat at the table, and we stan!

"WandaVision" premieres on Disney+ in the spring of 2021.

After 7 Seasons, Danai Gurira Announced Her Departure From 'Walking Dead'

With seven seasons under her belt, the 41-year-old actress bid farewell to the AMC flagship series calling it "a very difficult decision."

"I can confirm that this is the last season I will be on this amazing TV show as Michonne," Danai said before receiving a standing ovation. "I would just like to say that this has been one of the purest joys of my life to play this role and to be amongst these people and those who are not here right now and amongst all of you. I'm very thankful for the experience I've had in ways I can't state right now. My heart does not leave in any way, shape or form. The TWD family is forever. The connection between us never ends."

Will The Walking Dead ever be the same?

Mahershala Ali Will Star In 'Blade' Reboot

Donned one of the biggest announcements from this year's Comic-Con, news that the 45-year-old actor will be carrying on the legacy of Wesley Snipes for the highly anticipated Blade reboot has us living our best life!

'Black Lightning' Is Back, And The Cast Is Already In Production For Season 3

With some seriously solid seasons, CW's Black Lightning is clearly a fan favorite! When asked during the Comic-Con panel with cast members Jordan Calloway, Nafessa Williams, China Anne McClain, Cress Williams and Cristine Adams about season three, the cast confirmed it's green-lighted with production just started.

See other exclusive highlights from the panel below:

Keep scrolling to see the brand new trailer for Black Lightning set to return on October 21, 2019:

Black Cosplayers Showed Out