5 Captivating R&B Singers Destined to Enchant as Disney's Next Princess
Social media is trying to decide who should portray Princess Tiana in 'Princess and the Frog.' Here are some options!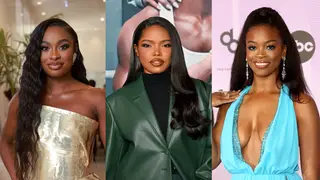 Over the last several years a wave of incredibly talented female singers have emerged onto the music scene, ushering in with them soulful melodies and empowering lyrics. Coupled with enchanting harmonies and magnetic stage presence, these ladies embody the spirit of the next potential Disney princess.
Just as singer and actress Halle Bailey has already captured fans as Ariel in Disney's upcoming live remake of The Little Mermaid, these songstresses have the perfect combination of vocal mastery and charisma to breathe life into another beloved character. In honor of the upcoming film, check out five R&B princesses-in-waiting that have the talent and skill to become the next Disney princess.
Ari Lennox

Singer and songwriter Ari Lennox announced her interest in being Disney's next princess when she released a video of herself seemingly "auditioning" for the fan requested live-action remake of Princess and The Frog.  The r&b songstress belted out a beautiful rendition of  "Almost Home," originally sung by actress Anika Noni Rose who voiced Princess Tiana in the animated film.

The "Pressure" singer made her acting debut in 2021, starring in Paramount +'s reboot of the popular sports drama-comedy series, The Game in an episode titled "White Party, White People, White Lies."

Coco Jones

Coco Jones would be a solid choice as the newest princess, considering she's no stranger to the terrain. The singer and actress rose to prominence, starring in several Disney projects, including the 2012 film,  Let It Shine and the singing competition series Radio Disney's Next Big Thing. With her performance in hit shows like Peacock's Bel-Air coupled with a classic r&b sound as heard in tracks like "ICU" and "Caliber," Coco would make for a very talented Disney princess.

Ryan Destiny

Detroit-based singer-songwriter and actress Ryan Destiny has already shown she can dance, sing, and act, starring in the popular musical drama Star. Over the years, she's released several notable tracks, including "The Same" and "How Many."

H.E.R.

Grammy Award-winning singer and musician H.E.R. also has a past relationship with Disney, having competed on Radio Disney's The Next BIG Thing when she was 12 years old. Her record "My Music" was also featured on Radio Disney.

In addition, on December 15, 2022, she gave a dazzling performance as Belle for ABC's Beauty and the Beast: A 30th Celebration, making the idea of her as Tiana even more alluring.

Tinashe

Singer, dancer, and actress Tinashe is the total package. She began her career in entertainment as a child landing several roles in popular movies and television shows throughout the years, including, Two and a Half Men, The Polar Express, and Out of Jimmy's Head. And with tracks like "333" and "O Holy Night," Tinashe is bound to give viewers that signature angelic Disney Princess singing.