Black Films At TIFF 2022, Here's What To Keep On Your Radar
From 'The Woman King' to 'Sidney' and 'A Jazzman's Blues' there are a lot of films headed your way soon that you have to watch!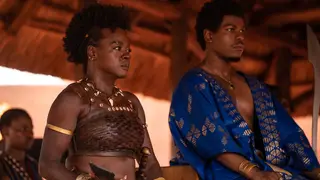 During the 2022 Toronto International Film Festival, numerous Black films premiered during the second weekend of September. Fans should be prepared for various movies, short films, and documentaries that will soon grace the small and big screen!
With notable titles like Gina Prince-Bythewood's The Woman King, Tyler Perry's A Jazzman's Blues, and The Inspection starring Gabrielle Union, these captivating storylines hit on several themes that are often talked about within the Black community.
BET.com has gathered some of the films that movie buffs should be on the lookout for in the coming months.
The Woman King

This film is about the Agojie, an all-female warrior unit that protected the West African kingdom of Dahomey back in the 19th century. The Woman King stars Viola Davis, a general who trains the next generation of warriors to fight their enemies.

Cast: Viola Davis, Lashana Lynch, Thuso Mbedu, Shelia Atim and John Boyega.

Director:  Gina Prince-Bythewood

Producers:  Viola Davis, Cathy Schulman, Maria Bello 

Where to watch: Nationwide starting on Sept. 16

A Jazzman's Blues

This is a story of forbidden love and family drama that unravels 40 years of secrets and lies in the Deep South.

Cast: Solea Pfeiffer, Joshua Boone, and Amirah Vann

Sidney

This documentary pays homage to the iconic Sidney Poitier and his trailblazing legacy as an actor, filmmaker and activist at the center of Hollywood, and the Civil Rights Movement.

Features interviews from Denzel Washington, Halle Berry, Robert Redford, Lenny Kravitz, Barbra Streisand, Spike Lee

Director:  Reginald Hudlin

The Inspection

Gabrielle Union plays Inez French,  a homophobic prison guard that can't come to terms with her son Ellis French (played by Jeremy Pope)  being gay as it conflicts with her strong religious background.

Cast: Jeremy Pope, Gabrielle Union, Bokeem Woodbine

Director:  Elegance Bratton

Where to watch: Theaters nationwide on Nov. 18

When Morning Comes

This Canadian-Jamaican drama film follows Jamal (Djamari Roberts), a young boy in Jamaica who is processing his uncertain feelings about his widowed mother's decision to relocate to Canada.

Cast: Djamari Roberts, Shaquana Wilson, Jarden Crooks

Director: Kelly Fyffe-Marshall

Producers:  Sasha Leigh Henry, Iva Golubovic, and Tamar Bird

The King's Horseman

This movie is an adaptation of Wole Soyinka's classic anti-colonial stage play, Death and the King's Horseman.

Cast: Odunlade Adekola, Shaffy Bello, Olawale-Brymo Olofooro, Deyemi Okanlawon, Omowunmi Dada

Black Ice

This documentary examines the history of racism in hockey, specifically from the segregated leagues of the 19th century to the current professional leagues, where Black athletes continue to struggle against hatred and bigotry.

Cast: Akim Aliu, Wayne Simmons, Matt Dumba, Anthony Duclair, Saroya Tinker, Sarah Nurse, P.K. Subban

Brother

This film is an adaptation of David Chariandy's novel. It follows the story of two Jamaican Canadian brothers whose dreams are affected by living during the violent reality in the 1990s in Scarborough, Canada.

Cast: Lamar Johnson, Aaron Pierre, Marsha Stephanie Blake, Kiana Madeira, Lovell Adam-Gray

Producers:  Damon D'Oliveira, Aeschylus Poulos, Sonya Di Rienzo, Clement Virgo

Chevalier

This is a historical drama inspired by the true story of composer Joseph Bologne.

Cast: Kelvin Harrison Jr., Lucy Boynton, Minnie Driver

Director: Stephen Williams

Producers: Stefani Robinson, Dianne McGunigle, Ed Guiney, Andrew Lowe

Soft

This drama centers on three queer Toronto kids whose friendship is tested after one critical summer season comes with the ups and downs of early teenagehood.

Cast: Matteus Lunot, Harlow Joy, Zion Matheson, Miyoko Anderson, Krista Morin, Trevor Hayes, David Lafontaine, Matt Willis.

Producers: Alexandra Roberts and Danny Sedore

Nope

This tale seemingly revolves around UFOs terrorizing the population of a rural mountain town.

Cast: Keke Palmer and Daniel Kaluuya

Where to watch: Out in theaters now

Bruiser

This film follows the theme of toxic masculinity and takes a hard look at the effects of toxic masculinity on a boy desperate for parental guidance.

Cast: Trevante Rhodes, Shamier Anderson, Shinelle Azoroh and Jalyn Hall

Nanny

After moving to New York, a young Senegalese woman is haunted by violent visions while working as a nanny and planning for the arrival of her son; this film explores the dangers of trying to live the American Dream as an immigrant.

Cast: Anna Diop, Michelle Monaghan, Sinqua Walls, Morgan Spector, Rose Decker, and Leslie Uggams

Producers: Daniela Taplin Lundberg and  Nikkia Moulterie

La Gravité (The Gravity)

This film centers on a mysterious planetary event that upsets the gravity and the fragile equilibrium of a Parisian suburb ruled by a cosmically-connected crew of young "entrepreneurs."

Cast: Jean-Baptiste Anoumon, Max Gomis, Steve Tientcheu, Oliver Rosemberg, Thierry Godard, Hafsia Herzi

The Umbrella Men

This South African comedy-crime film focuses on Cape Malay's struggles for freedom in the midst of a carnival, a bumping brand brass section, and a bank heist.

Cast: Jaques De Silva, Shamilla Miller, Keenan Arrison, Bronte Snell, Abduragman Adams, June van Merch, Kagiso Lediga, Joey Rasdien

Producers: Thembalethu Mfebe, Joel Phiri, John Barker, Dan Jawitz, Tshepiso Chikapa-Phiri

Shimoni

This film follows a teacher recently released from prison who renegotiates the physical world's confines while being forced to face his nightmare in reality.

Director: Angela Wanjiku Wamai

Free Money

This documentary chronicles the consequences of what happens when a US organization offers everyone in the  Kenyan village of Kogutu a universal basic income.

Cast: Jael Rael Achieng Songa, Emma Anyango Adiambho, John Omondi, Larry Madowo, Caroline Teti, Andrew Yang, Michael Faye

Director: Sam Soko and Lauren DeFilippo

Producer:  Amanda Pollak, Jordan Fudge, Jeremy Allen, Lauren DeFilippo, Sam Soko