Kanye West Responds Yet Again On 'White Lives Matter' Remarks
The family of Ahmaud Arbery has also responded to the controversial usage of the slogan.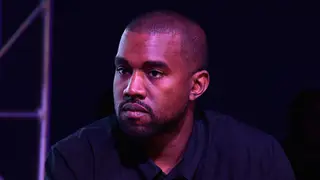 Kanye West is responding again to the use of the "White Lives Matter" logo as a part of his YZY SZN 9 collection that was revealed during Paris Fashion Week.
"Here's my latest response when people ask me why I made a tee that says white lives matter… THEY DO," he said in an Instagram post on Wednesday (October 5) alongside a  photo of the shirt.
The family of Ahmaud Arbery has also reacted to West using the phrase and says it helps to "legitimize extremist behavior."
According to Rolling Stone, Wanda Cooper-Jones, the mother of the late Ahmaud Arbery, who was killed when he went for a jog in Georgia and three white neighbors chased him down and shot him in Feb. 2020, expressed her "extreme disappointment" with West's actions.
"As a result of his display 'White Lives Matter' started trending in the U.S., which would direct support and legitimize extremist behavior, [much] like the behavior that took the life of her son," Cooper-Jones relayed through her attorney Lee Merritt. "That is the thing that Wanda and families like hers continue to fight against."
"This mockery of the Black Lives Matter movement and his now denunciation of the movement as some sort of hoax flies directly in the face [of what he's said,]" the statement added. "It's confusing for her, it's confusing for the families to receive his support privately, but publicly to set us all back."
In several now viral social media clips, West is seen wearing the shirt with the phrase that the Anti-Defamation League has categorized the phrase as a hate slogan or symbol.
West was also photographed alongside conservative Black commentator Candace Owens wearing a matching shirt at the event.