Kanye West Wears A 'White Lives Matter' Shirt During His 2022 Yeezy Fashion Show
Selah Marley and Candice Owens joined him during his surprise show at Paris Fashion Week.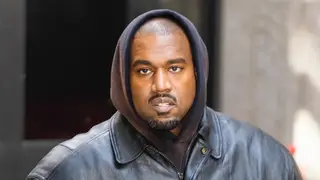 Kanye West knows how to keep us on our toes. 
Before the models appeared, West gave a speech wearing a "White Lives Matter" T-shirt emblazoned with the Pope's face on the front and the identical bedazzled flip-flops he sported last week. 
Right Wing commentator Candace Owens joined Ye on the runway, and Lauryn Hill's daughter Selah Marley modeled the shirt, which had Twitter users confused, being that she comes from an Afro-centric family. 
We're not sure what message Ye was sending with this collection, but fans are begging for an explanation.