Halle Berry's Response To Finding Out She's Related To Sarah Palin Is Hilarious
The legendary actress made her thoughts about the former Alaskan governor very clear.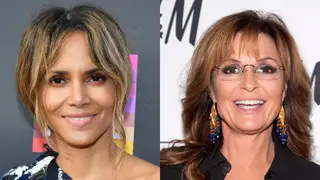 It's interesting what you can find when you go through the lineage of your ancestry. Halle Berry, however, isn't too thrilled about one of her family tree connections.
Via Twitter, the celebrity news account Daily Blast LIVE tweeted that the legendary actress is "distant relatives" with former Alaskan governor and vice presidential candidate Sarah Palin.
"This pair shares roots that may seem like they're from different trees, but @halleberry and former VP candidate @SarahPalinUSA are distant relatives -- though the actual connection is unclear," tweeted the account.
Well, Berry apparently saw this and said that while Palin may be family, they will not be meeting up to discuss their relative status any time soon.
"She may be on the tree but she 'AINT invited to the cookout," said Berry, accompanied by a laughing face emoji.
Well said. Sarah Palin wouldn't even be allowed in the parking lot of the cookout. 
Berry had previously revealed that Palin was a part of her family lineage. In 2012, during an interview with Extra, Berry said to the outlet, "You want to know who I'm related to? Sarah Palin!" Extra's Jerry Penacoli then shouted "No!" in disbelief. Berry laughed and said, "That's what I said, 'Nooo!'" mimicking a horror movie scream.
How? "Some twisted way," Berry said. "Somebody sent me this information that she was my distant [relative]."