Styles P Is On His Healthy Living Mission And Reveals If He's For A Dipset Verzuz Rematch
The LOX member also discusses his solo rap retirement and says his trio is back in the studio working on another album.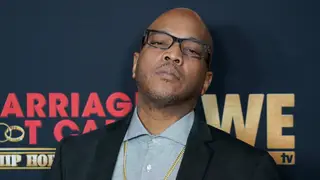 Styles P has been living a healthy lifestyle for two decades now, and he's making it a big part of what occupies his time these days.
The Yonkers rapper made headlines in the hip-hop world last year when he announced that he'll be retiring from recording solo music in 2023 to focus more on other projects in rap, including a new LOX album and features on other artists' work. He's also looking to extend his already gaining influence in the health education and advocacy space, where he's already opened numerous Juices For Life and Farmacy For Life locations around New York City with his wife Adjua with a goal of both educating disadvantaged communities in the Big Apple about nutrition and providing healthy food to people in need.
Styles himself became a full-time vegetarian in 2013 and claims it changed everything for him, including the eradication of eczema he suffered from, maintaining a healthy weight, and making his mental health much better. During a recent interview with BET, Styles P spoke about one of his newest ventures in life, as well as the new music he's worked on, including his January-released album, A Calm Wolf Is Still A Wolf, his 2021 collaborative LP Wreckage Manner with Mobb Deep producer Havoc and reveals whether he'd be interested in doing another Verzuz with The Diplomats. Don't hold your breath on that one…
BET: You made an informal announcement last year that you're retiring from hip-hop as a solo artist. What made you make this decision because you do already have an extensive solo catalog?
Styles P: You kind of said part of it. I have a very extensive solo career and put out a bunch of music and I have a bunch of other things I want to do. I'm not retiring from making music in general, I'm still working on a lot, so I'll still be doing collaborations. But for solo wise, I'm just going to another space. I have a few other businesses that I have and I'm looking to broaden my horizons, expand on what I'm already doing and to make solo albums it's time consuming, especially at the rate I do and how I like to do it. It's better to choose your own time and know what you want to do, how you want to do it and go about it that way.
BET: Speaking of those different ventures, you've said that you want to pivot into doing more writing – whether it's a book or TV or film scripts. What are some things in that lane you have in mind?
Styles P: Yeah, definitely. [Invincible: A Novel] was my first fiction novel. I'm definitely looking to write more fiction novels and I'm definitely looking to write – and shout out to my partner Pools – we already have a few scripts written down. So I'm looking to put my energy behind that and being able to relax.
BET: You've made a pivot to the healthy living space with your wife Adjua and created Juices For Life in an effort to bring better nutrition to underserved communities in New York. How's that been going and where did that mission come from for you?
Styles P: It's been going great, to be honest. It's been a long, long journey of doing it. The first juice bar was opened pretty much almost like 14 years now. So it's just been a journey. It's five juice bars. It's been a it's been a hell of a journey, but it's been beautiful to be a messenger and help contribute to changing our lives, especially in poverty stricken neighborhoods, places where there's food deserts, and even not just those places to be able to help anyone on a health journey or for our stores or us as people to be able to assist people on doing better. That's kind of what life's about. That's an important part of the journey for me. I've been fortunate enough to have success with it.
BET: Yeah you mention food deserts. All around America, particularly in mid-size big cities, it's a real issue for communities and their access to affordable and healthy food. Speak on that a little and the efforts you're making to help combat it…
Styles P: That's what it's about. We just want to make sure that people have not even just the access, it's really the information because when I started the journey, it was more so to have people who look like me, who are from the neighborhood where I was from change their lives. The journey becomes just really trying to give information to all beings, of course, being Black in the neighborhoods we live in, we're number one on the list as far as the target. If you look at America's stat numbers on obesity, everyone's targeted. So it's about bringing information and God willing, one day, I'll have the ability to open up stores everywhere, every state, but it's really about information and changing people's lives and getting them to understand that they have to do this at home as well.
BET: You also have your Farmacy for Life initiative which you've opened up in numerous locations. How does that fit into what you're doing?
Styles P: Farmacy for Life came out of seeing how people gravitated and took the Juices for Life. We were able to go to one store from one store and out to almost six locations soon to be but from seeing that we wanted to advance the crowd as they went with us later. My wife was smart enough to say, "Hey, people need to see what's in our medicine cabinet. See the other things besides just the juicing. People need you know,that you take black seed oil, CMOs, elderberry, and zinc. We should be able to provide those things to people. So that's how it grows.
BET: What made you want to go vegetarian?
Styles P:  I was a vegetarian from 2003 to 2013. After I dropped A Gangster and a Gentleman, I had to do some time in the county pen. When I came out, I stopped eating chicken. So I just ate fish and veggies from that point. Every Thanksgiving I did break bread with my family, and eat turkey. On Thanksgiving '13 I felt like s**t, basically and I went on a three-week cleanse. I said, when New Year's hits, I'm gonna go on a three-week cleanse, and I just never went back and I became plant-based from December 31 of 2013 to up until this point. And more so than just for health reasons, what really kept me there were just spiritual reasons. It feels more energetic and positive toward people. I lost my eczema, my post nasal drip left, my horrible temper went to, to a bad temper, and then even lower and lower and lower. I was fortunate enough to have many beneficial factors with going plant-based.
BET: Musically, you released A Calm Wolf Is Still A Wolf in January. Kind of a prelude to ending your solo rap career. What all went into that one and sort of the goals for it?
Styles P: When I make my music I go about it the same way every single time. I zone out, I find beats I like, I knock it out. I just express myself emotionally of where I'm at. Calm Wolf was to say a wolf is still a wolf. A lot of people see a person and at a certain point in their life and some people will just see the fruit and veggie guy. And I'm cool, but I'm still wanting to illest lyricists out. So that was the thought process and in between that and to share a jewel with people, like don't always judge a book by its cover.
BET: I also really loved [2021's collaborative album with Havoc] Wreckage Manner. There were some discussions out there about The LOX and Mobb Deep doing an album together before Prodigy died. So was this sort of an extension to that and tell me about collabing with Hav for this?
Styles P: it was beautiful. Hav hit me up and asked if I want to do some joints and I was like hell yeah, who the f**k's going to turn down Havoc. [He's a] friend of mine, good brother but music I was like I would love to. It was effortless to make that to be honest with you, he was sending me some s**t and he was rhyming his ass off, making the beats. That's one of my creative highlights to be able to work with Havoc. I appreciate how he holds himself. He's a very humble, quiet dude, but a beast. As far as I was concerned he never gets the credit for actually, nowadays, you see a lot of producers raping producers, but Havoc was actually that in the 90s, in the Golden Era. [He's] been that man for a very, very long time. And making the project was super fun. It was just something I'll never forget.
BET: Also, I'm sure you saw that Jim Jones recently asked for a rematch for the Dipset/The Lox Verzuz. Is that something you'd be interested in?
Styles P: Brother, I'm good. I'm chilling out. We're gonna let that be with where it's at. We made history. It was good. It was a beautiful event coming off of lockdown. People were excited. It's Madison Square Garden, Michael Buffer was there. So you know, I love Jones, but I'm leaving that one alone.
BET: Speaking of The LOX and you still recording in capacities besides a solo one, how is the next group project with you, Jada and Sheek going?
Styles P: [We're] working now. We're working right now as we speak. The LOX is back in the lab. Sometimes, we're The LOX without making music. Like we see each other all the time, we own a studio together. So it's more so of I guess pulling it together sometimes. If anything, we've shown you how to remain loyal. As a group, I think we don't ever really sweat what people expect. We just do what we need to do, but we are definitely working on music right now [with] a few songs in the bag.