DJ Jazzy Jeff On New Producer Mentoring Program & An Old Will Smith Picture Worth A Thousand Words
The hip-hop legend also expounds why teaching has been part of his life's work.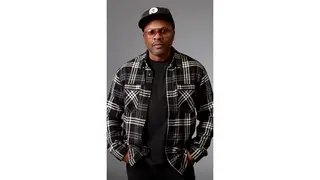 DJ Jazzy Jeff has been an integral part of hip-hop for over half its lifespan. He began in West Philadelphia, impressing his peers with his remarkable turntable and production skills. From there, he reached the pinnacle of success, achieving multi-platinum sales and winning Grammy awards with Will Smith, among other accomplishments. But even after all of that, Jeff continues to explore new ventures that stem from his past experiences.
Recently, he played a key role in Questlove's Hip-Hop 50 Tribute at the Grammy Awards. His participation served as a reminder to many why they fell in love with hip-hop and its music in the first place. Once again, Jeff is leveraging his passion for hip-hop and his exceptional technical skills to equip aspiring DJs and producers with the tools they need to succeed.
Jeff's newly launched music production program Command Central: Making Beats is a CafeMedia-powered intensive six-week online program that will provide aspiring musicians with the resources to build core foundational skills for music production. Joined by other award-winning colleagues during the process, he'll also provide one-on-one feedback throughout the program for those who sign up.
BET recently spoke with DJ Jazzy Jeff about his new program, why teaching the next generation of hip-hop artists is important to him, his Hip-hop 50 DJ set at the Grammys and a picture of him and Will Smith from 34 years ago that he says feels like yesterday.
BET: Command Central: Making Beats, your six-week online program – first off it looks amazing. Where did the idea come from and what made you want to be the central part of this?
DJ Jazzy Jeff: I think having production companies pretty much all my life and mentoring producers. I'm a big geek at heart, so just to kind of be able to go into a room with somebody and kind of share knowledge about recording, and this is all still really super exciting for me. But I've been doing it ever since I started. So this was a supernatural progression. It's kind of like if I've kind of shown a bunch of people stuff that I know, why not make it available for everybody? I'm just one of those people that think you don't necessarily have to get into music to be a professional. Sometimes you get into it because you really enjoy it. So just showing people the basics of what it takes to put something together kind of gives them the ability to figure out how far they want to take it.
BET: You've said that this program is special to you because it helps give "the next generation a shot to make it in the music industry." In your mind, what are some of the elements of this program that will particularly help someone at least get some of the skills to be able to navigate through the music industry?
Jazzy Jeff: I've always felt like looking at a lot of the production courses, and even looking at some of the DJ courses, they all start at level five, they kind of anticipate that you already know something about it. And I'm kind of like, What about the person who doesn't know about bars and beats and structures and quantizing and what's the difference? How do I make my drum swing a little bit? What is the technical term for all of those things? I think so many of those courses miss it. This course is really designed to show you how to go from step zero to step five to figure out if you want to go to five and beyond, or you just want to stop it.
BET: How have you seen production and DJing change over the years because you've experienced shifts constantly during your time in the business from 4-tracks to MPC to Serato, and now Serato stems?
Jazzy Jeff: Well, like I said, me being a geek at heart, I really love the fact that when I first started, you had to save all your money to try to go into the studio and get studio time and make something. Now you can go to the Apple Store and buy a computer. You pretty much have a photo studio, you have a recording studio. I love the fact that it's a lot more accessible for people to kind of record in a professional manner than it once was. So I think this all kind of plays into it. I think it levels the playing field a lot.
BET: How would you describe your role as a teacher in hip-hop because you're seeing people like yourself, Questlove, 9th Wonder and others trying to help keep the culture going for the next 50 years now that we've just hit the 50th anniversary of hip-hop?
Jazzy Jeff: From the time that I started I've always been a teacher. Whether I thought of myself as that or not – anytime I got any kind of information, found a new piece of gear, a new process, I had to get on the phone and share that with somebody because you're excited. This is something that I've never expected myself to be fully immersed in and to be able to walk into a room and make a complete record that could be somebody's favorite record, that they've never heard to me is special. So you want to try to find out who has that desire. Who has that goal and who has that talent. Sometimes you got to find that out on your own.
BET: How have you seen DJ culture changing since the start of the pandemic to now? Seems like there's a possibility that many new DJs were created out of it with more time for people to discover a new craft. That mixed with what DJ D-Nice was able to do with Quarantine Radio, Swizz with Verzuz, etc…
Jazzy Jeff: I think what I appreciate more than anything is it kind of gave people the understanding that the DJ is a curator. When you listen to the radio, if there are 20 songs that the radio says that you have to play, the radio is the curator. When that curation used to come from a human being he would display his taste in music, he would kind of line the songs up the way that they would go. That's when you had your favorite DJ. I think when the pandemic shut everything down, D-Nice just put his controller on a counter and started playing music so that he could have peace of mind. I don't think he realized that there were millions of people that needed that piece of mind also. That's where the connection came and I think that just opened the eyes up to people, again, to the power of music. He saved a lot of lives.
BET: You killed it during the Hip-Hop 50 tribute at the Grammys. What was that like and how much planning and work for it came from your angle?
Jazzy Jeff: The rehearsals kept changing because people were coming in and out. It felt like a big giant family reunion. I don't think that level of hip-hop talent has ever been in one room and some of the most enjoyable times were just sitting there, talking, and I'm sitting and looking and I was like, Well Run-DMC are right there and LL Cool J is right there and Salt-N-Pepa are right there and Rakim's right there and The Roots are right here, and we're all just having this conversation about life. A lot of these guys I've been on tours with 25 and 30 years ago. To really understand that we are celebrating – the 50th anniversary of a culture that has given so much of us a great life – it was incredible. You didn't want it to end. It's kind of like very wedding-ish – that you plan all of this time for that and it's over in 15 minutes. But I think that just opens the door for us to get together again soon and try to do this on a more permanent basis.
BET: In February you posted a throwback pic of you winning a grammy with Will Smith 34 years ago. Does that memory seem that long ago and take me back to that?
Jazzy Jeff: You know, it's weird because I almost feel like that from that moment things have never stopped. So when things are constantly moving, in my eyes, I thought that happened 10 years ago. You're not looking at it as that long ago. The stance that we made at The Grammys was because we felt that hip-hop was being disrespected. We weren't thinking about 20/30 years down the line, we were just hoping that we were gonna be here next year. So to look at it and that it had some level of impact, and winning the first one, I'm kind of like, Man, this is great, but it seems like yesterday.