Here's Khloé's Reaction to Her Baller Bae Getting Another Woman Pregnant
Her relationship just got more complicated.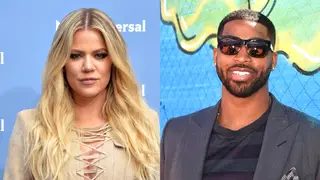 Khloé Kardashian has been having fun with her latest fling, NBA player Tristan Thompson, all Summer 16, but looks like their relationship is not so simple anymore. 
According to multiple reports, Thompson and his ex Jordan Craig (who happens to be the couson of Kevin Hart's wife Eniko Parrish) are expecting a baby together, and the little one is due any day now. So, how does Khloé feel about this, and did she know the situation before she hopped into a relationship with Thompson?
Apparently, Khloé knew what she was getting in to and intends to stick around — under one condition.
"Tristan told Khloé about the baby," a source tells Us Weekly. "He's happy about it." As for Khloé, she's "having fun with him right now and just doesn't want any drama."
So, as long as Thompson and Craig stay away from a Masika and Fetty Wap situation, he and Khloé should be good. Of course, if things get more serious between the two, it's worth noting that Khloé has experience as a stepmom: she played the role to Lamar Odom's kids during their four-year marriage.
Watch Khloé defend her sister Kim Kardashian after her Paris robbery with BET Breaks.