Muhammad Ali's Second Wife Speaks Up About The Possibility Of Illegitimate Children: 'I Went Through A Lot WIth That Man'
His 80 million fortune is at stake.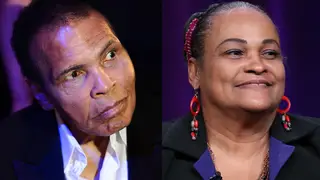 Boxing legend Muhammad Ali was laid to rest this week, with thousands coming forth to pay their respects to one of the most influential figures of our time.
It was no secret that Ali was quite the ladies man during his life, marrying four times and bearing nine children, and in light of his recent passing, his second wife Khalilah Camacho-Ali has come forward to bring light a valid concern regarding his fortune. She has pointed out that it's only a matter of time before people claiming to be his illegitimate children are going to step forward to try to get a piece of his estate, much like we've seen since the passing of Prince.  
"They're going to come out of the woodwork like roaches," she said prior to the services burying her late ex-husband. "I had to protect Ali from lots of paternity suits. I went through a lot with that man – he had a real dark side. Tiger Woods and Arnold Schwarzenegger didn't have nothing on Muhammad Ali."
As reported, two daughters born to different lovers of Ali's have already been recognized, with a third coming forward and already making a convincing claim.
While his ex-wife does raise a good point, Khalilah is being criticized with people saying that her comments could have waited until after the ceremony concluded before making her peace.
More on this story as it develops.