Garcelle Beauvais Looks Stylish in New Preppy Rowing Blazers x Target Collection
The reality star rocked a $38 dress with cream-colored boots.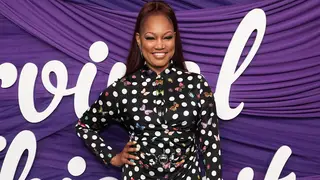 Garcelle Beauvais is bringing Preppy back.
On Thursday (September 7), the star was in the Big Apple for New York Fashion Week when she went live on Instagram while at the kick-off party for the new Rowing Blazers x Target collection.
The line –which drops September 23–  features a variety of fashion-forward pieces that give nostalgic styles a fresh take. While at the party, Beauvais rocked a dress from the line, and she made it do what it do.
The Real Housewives of Beverly Hills star donned a $38 dress, and we can't believe how good she made it look. The short-sleeve dress features a red and purple checkerboard pattern and a white collar. Beauvais took it up a notch by adding a pair of jumbo silver hoop earrings and cream-colored tall boots.
Later that night, she made another post featuring a video montage of her in the same dress doing a variety of poses in a hallway while smiling. This fashionable moment also became a family affair.
Striking a pose alongside her twin sons, Jax and Jaid, the trio ate this collection up!
Jax modeled a navy crew shirt sweater from the line designed with a yellow Rowing Blazer logo across the chest and a pair of dark trousers. His brother wore a similar thread.
Jaid opted for a green sweatshirt inscribed with the word "Kindess" across the front and a set of off-white cargo pants. Each sweater retails $32.