Why The Poetry in LEMONADE Hits The Spot
Beyoncé's New Visual Album Is Enhanced By Spoken Word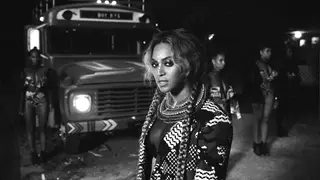 I interviewed Beyoncé many years ago. She carried herself like a woman twice her age. Her answers were rehearsed and she made direct eye contact for our entire interview.
Destiny's Child was about to perform their new song "Bills, Bills, Bills" about a woman who wants nothing to do with a man who can't pay her bills. They were booed a few times while performing the song in other cities. This time, the girls took the stage and Beyoncé said to the crowd, "This song is just for fun. It's not how we really feel!"
Those days are clearly over. And Beyonce wants you to listen to the message in her music.
Matthew Knowles trained his girl to be unfailingly professional. Back straight with a firm handshake. But over the years, Bey's polished demeanor began to invite criticism. She was accused of being phony and stuck up.
But by 2003, when she gave an interview to Oprah that was roundly criticized, she began to retreat. Her most recent interview in Elle was clearly tightly controlled and the story reads more like a press release.
It makes sense. It seems as if whenever Beyoncé has opened up, the criticism has been swift and brutal: She's not open enough. She sounds dumb. Her voice is annoying.
This is a woman who had to deal with a faction of people who believed she was faking a pregnancy for nine months.
Try to visualize this. After suffering a devastating miscarriage, you're carrying a child. And there is a worldwide discussion about whether or not you're actually pregnant. Your husband has to deflect the rumors. He actually has to say to a reporter, "My wife is really pregnant."
Your child is now four. You've posted photos of yourself in various stages of pregnancy. People still don't believe.
So she stopped speaking to us directly. She spoke through social media—a one-way conversation that suited her.
And since 2013, when she dropped her self-titled album, Beyoncé has spoken to us almost exclusively through her music. We be all night. I don't feel like myself since the baby. I'm jealous. We should get married.
And now, she pours a tall glass of Lemonade for us to sip on.  
The lyrics in LEMONADE are incredible. The visuals are breathtaking. But the spoken word and poetry, (culled from the work of poet Warsan Shire), could actually stand on its own as a triumphant expression of love and loss.
The layers in the couplets are jarring at first listen. Especially since it feels intensely personal. The poetry is even more powerful when read, independent of the visuals and the songs.
Like the visual album, the poetry walks a fine line between fact and fiction. At the beginning she whispers: You remind of my father, a magician. Able to exist in two places at once. In the tradition of men in my blood, you come home at 3am and lie to me.
In a line like that, who else could she possibly be talking about?
But later, she asks: Am I talking about your husband or your father?
The best way to enjoy the poetry in LEMONADE is to take it at face value and not overthink it. Trying to figure out who she's singling out and why just diminishes the work. Experience it as high art, which it is. It's not a treasure hunt to the truth about Beyoncé.
Instead, it's an honest search we can all relate to. No matter what your ethnicity, gender, age or orientation, who doesn't know the sting of heartbreak? Who doesn't know the ache of trying to recover? I tried to change. Tried to be softer…prettier.
Collectively, so many women have said to each other in the past few days, Beyoncé too? She knows what it feels to be convinced you're not beautiful enough? If Beyoncé can feel this way, is there any hope for the rest of us?
Of course there is hope. Beyoncé has always been 'the rest of us'. She's always been human and flawed. When she says: What are you going to say at my funeral now that you've killed me? There is a collective wince—because so many of us know that feeling. But at the very end of the album she makes it clear: Put me back together the way you cut me in half. We're all worthy of redemption.
Now, in some moments, it's hard not to speculate on Beyoncé's intentions. There are several parts that made me raise an eyebrow. I see now why she started off Formation with: Y'all haters corny with that Illuminati mess. She gives those haters lots of ammunition with the poetry on certain parts of Lemonade. She speaks of using the Bible as a tampon (!!!) seeing the devil, drinking blood and bathing in bleach. Fortunately, that segment was the extent of the gory images and verbiage.
The main takeaway: Near the end, Beyoncé says: You are terrifying and strange and beautiful.
It doesn't matter who she's talking about. That's in all of us.