11 Tweets Dragging Lindsay Lohan for Claiming She Was 'Racially Profiled'
Social media isn't taking too well to LiLo's claims.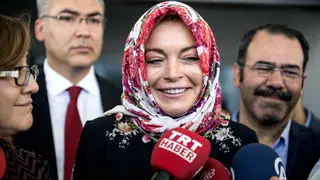 Lindsay Lohan is speaking out to the press for the first time in a while, claiming she was left in a state of shock after being "racially profiled" at London's Heathrow Airport.
According to the New York Daily News, the actress revealed during an interview on Good Morning Britain that it all occurred while she was departing London to return to New York. She claims an airport attendant stopped her and asked her to remove her headscarf.
"I got stopped at the airport and was racially profiled for the first time in my life," she said. "She opened my passport and saw Lindsay Lohan and started apologizing but said, 'Please, take off your headscarf.'"
The Mean Girls actress added that she wasn't certain if the airport attendant pulled her aside because she assumed she was Muslim, but said the situation left her shaken.
"I mean, it's OK. But what scared me was that moment, how would another woman who doesn't feel comfortable taking off her headscarf feel?" she added. "That was really interesting to me. I was kind of in shock."
Also in shock were members of the Twitter community, who wasted no time in sharing their opinions on Lohan's claims:
Watch Cory Hardrict speak on being racially profiled as a Black man in the BET video, above.