Kendrick Lamar Totally Killed His Grammy Performance
He lit the stage on fire. Literally.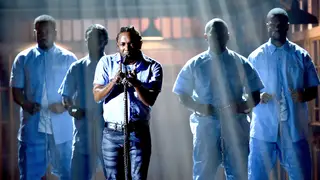 Kendrick Lamar's To Pimp A Butterfly made noise for a lot of reasons and his 2016 Grammy Awards performance did the same.
Walking out in shackles through a dirty jailhouse the Compton native – accompanied by background dancers – started strong with "The Blacker The Berry", highlighting an unfair imbalence of African Americans currently imprisoned in jails across America. He then moved on to "Alright" which literally set the stage on fire.
Beads of sweat dripped off of Kendrick's face as his intense focus and perfectly executed lyrical delivery further proved his right to be gracing the stage. An artist very deserving of 11 nominations, his live performance will have us talking for the rest of the year, or at least, the night. Tonight's performance certainly helped solidify Kendrick's permanent place in music today regardless of any award.
The hip hop world was waiting patiently throughout the Grammys ceremony as ballads mostly occupied the stage prior. K Dot's performance was also the first from a hip hop artist on the night.
Along with his eye-opening set, Kendrick Lamar also took home hardware for Best Rap Album, Best Rap Performance and Best Rap Song, among others.
See bits of his performance below.
(Photo: Kevin Winter/WireImage)