47 Jurors Express Their True Feelings About The Kardashians During Blac Chyna's Opening Hearing
"I sincerely hope none of these people get any wealthier because of this," one of the jurors said.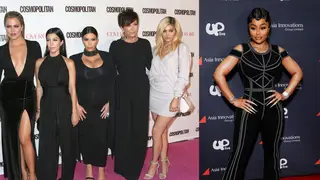 The Kardashian Clan was in the hot seat this week as they sat front row in a Los Angeles courtroom while prospective jurors shared their feelings about the family during their legal battle with Blac Chyna according to Associated Press.
Chyna, whose legal name is Angela White, is suing the family for $100 million alleging they destroyed her television career by defaming her and illegally interfering with her contracts and business dealings.
Chyna's attorney, Lynne Ciani, asked 47 candidates to express their feelings about the plaintiff and defendants, and the comments weren't too kind.
One said, "I sincerely hope none of these people get any wealthier because of this."
Another candidate said how she prevented her teenage daughter from watching their reality show and added, "I don't think they were the best role models. I wouldn't let her watch anything involving them."
"Anything that has to do with their names is just a big no for me," one man said. "I don't think reality TV is good for society."
Jury selection is expected to continue Tuesday (Apr.19th), with opening statements to follow. The Kardashian clan are all expected to testify during the trial and expected to attend at least parts of it, but their appearance for jury selection was somewhat of a surprise.
Judge Gregory W. Alarcon, however, reminded the jury that wealth is not a factor in this legal case.
"I appreciate your honesty," he said to the panel.
"You're certainly not shy. This is the type of case like all cases where everybody is entitled to a fair trial. There's a jury instruction that says the wealth of a party or the poverty of the party doesn't matter."