Kim Kardashian Threatens Legal Action Against Ray J In Bombshell 'The Kardashians' Premiere
She looks like she means business.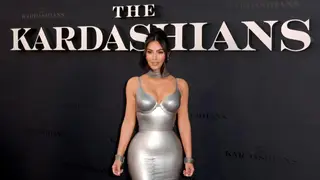 Kim Kardashian's new Hulu reality show The Kardashians premieres today (April 14) and there is already drama. In the premiere episode the reality star is delirious over the possibility of Ray J releasing an "unreleased version" of their sextape.
In the episode, Kardasian is on the phone with her lawyer Marty Singer, Ray J and Kim Kardashian dated in the early 2000s before Kim became the reality TV and media force she is today. The sex tape, titled Kim Kardashian, Superstar, was filmed in 2003 and released in February 2007.
While on the phone, Kardashian looks visibly frustrated, particularly over the notion that Ray J could've used foreign objects and the like while making the alleged sextape.
The trigger for the emotional conversations is Kim's son Saint West who apparently saw a meme on a videogame touting a new sextape. Previously, Kardashian has expressed confidence that there is not a second sextape in Ray J's possession however she's not 100 percent sure in the premiere.
Kim is seen instructing her attorney to "scare the s**t out of Ray J's manager" to protect herself and her kids. She's also seen on the phone with estranged husband Kanye West as she bemoans the situation.
"For 20 years this has been held over my head, of this mistake, or is it a mistake?" she's heard saying in the episode. "This was my boyfriend of years. We go on a trip, we film a video. It's embarrassing for me to be out there, but it's not the most scandalous thing and I'm not going to be made to feel this way. I'm just human."
Watch a segment of what went down below.