Paris Jackson Has Some Thoughts on Kanye Breaking Michael Jackson's Record
The daughter of the icon speaks out.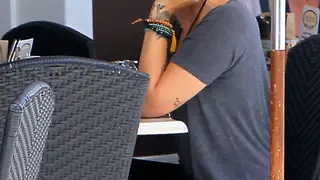 It was recently announced that Kanye West has officially broken Michael Jackson's Top 40 hits record with his recent collaboration with rapper ScHoolboy Q, "That Part," making it the 40th Top 40 hit to feature him. While the King of Pop will forever be remembered as the greatest, some of his fans find the comparisons between him and 'Ye ridiculous, but one person who isn't here for the hate is MJ's daughter, Paris.
After an MJ fan took to Instagram to explain how "f*****g mad" she was that Kanye trumped Jackson's record, Paris explained that not only would her dad have been proud of 'Ye's accomplishment, but he was actually a fan. Take a look at what she had to say, below:
See how much the young scion stands to inherit in the BET Breaks video, above.