Exclusive: John Legend Takes It Back To His Ohio Roots And Shares How His Life Is Rooted In Activism
The EGOT recalls his musical beginnings, Pentecostal Church influence, and how forgiveness taught him a lot about himself.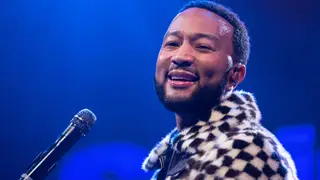 John Legend's story is one that he's never been shy of telling. Growing up in Western Ohio, he learned at a very young age to become a musician, but like most of us, developed professionally, spiritually, and socially a little further down the line.
As he describes it, the Springfield native's Pentecostal Church upbringing was conservative, family-focused, and one that taught him some of the most important lessons he still employs to this day. In ways though, he reveals how it sheltered him from the realities of police brutality and institutional inequality that are still rampant today.
After performing his legendary 2005 hit "Ordinary People" for the Audible Originals Words + Music series' October episode titled "Living Legend," which was recorded at legendary jazz club Ronnie Scott's in London for a select audience, Legend revealed that his "political sensibilities have evolved over time" and the roots of the journey he took to becoming one of the most politically active musicians in America.
"The Black church, in a lot of ways, could also be conservative when it comes to social issues like women's rights and gay rights, and sexuality in general," he said during Part 7 of the episode, acknowledging how important the church has been when it comes to voter organizing and community outreach. "Our church was definitely not progressive on those issues, and the curriculum my mother used when I was homeschooled was very conservative, very connected to the white evangelical, socio-political movement in the U.S."
"But as a kid I'd also go to the public library with my siblings, and there, I got to pick out my own books and I would always gravitate toward reading about Black civil rights heroes," he added. "Something about reading about them made me feel proud like they were living their purpose, like they were living a life that was meaningful and impactful and I was attracted to that."
The now-43-year-old EGOT winner intermixes covers of Paul Simon's "Bridge Over Troubled Water" and Stevie Wonder's "Ribbon in the Sky", as well as his own landmark, hits "Glory," "Used to Love U," and "All of Me," among others during the presentation with stories of how he excelled as a student while his home life was disastrous, working in corporate America as a financial consultant while moonlighting as a musician in nightclubs in his spare time, and more.
During a recent interview with BET.com, Legend expounded upon his Words + Music presentation and the hardships he experienced earlier in his life.
"I grew up with the church being very influential and music of the church being very influential in my life," he recalls. "I grew up in a working-class family and had kind of the typical working class struggles of being in the so-called Rust Belt, being employed by an auto manufacturer that laid us off and shut down the plants, and being subject to the ups and downs of the economy, when it came to that. [I] grew up not having a lot of resources and not having the ability to travel much, we were pretty sheltered."
Later on, Legend says he heavily identified with leaders and activists who sought equal treatment, rights, and the basic decency of humanity toward people who look like him.
"I always was attracted to the civil rights movement and if you internalize the values of Dr. King and other people who marched for justice and equality, even though their immediate concern was Black people in America," he explains. "If you extend those values out then you realize that it's about love for humankind. It's about the idea that we all have value in this world. And that's more than just the particular political position of Black people in America."
He continues: "It's about the idea of believing in human rights, believing in empathy, believing in the value of every human being, no matter where they are, no matter what they look like, no matter who they worship, who they love. I think that ethos leads to you being progressive in multiple ways and beyond the kind of conservatism that I was exposed to in church as a kid."
Legend's childhood difficulties were also compounded by his mother Phyllis' drug addiction and the resulting estrangement from his family that lasted nearly a decade. According to the singer, it taught him a lot about what addiction can do to a family unit, but also, what forgiveness can do for everyone involved.
"We all had to forgive her and I think that's a process that is important for the person you forgiving, but it's also important for you because if you can't forgive and if you're holding on to blaming that person and not allowing them back into your life, it can be a weight on your own psyche and your own soul," he says. "So I think it was important for all of us as kids to forgive her for our own growth and development as human beings. That was a process, it took a while, but I think we were able to do it. It's really just better and beautiful to have her back in our lives – have her as grandmother to our kids.
"I love watching her teach my kids like she used to teach us. I love seeing them interact with her and see the love that she has for them and that they have for her," he continues. "It just makes you realize how important it is for us to forgive and find ways to reconcile with our family if we can because there's so much love that we can share with each other if we allow ourselves to do that."
Of course, performing music – whether in the church, at local venues or at home – always intertwined with whatever Legend's childhood threw at him. And it's been key to his development as an artist that propelled him to the superstardom he currently experiences.
"It's abundantly clear that I wouldn't be the musician I am without having that foundation because growing up in the church and growing up singing all the time, playing all the time, and having the opportunity to do that in front of an audience is just a great training ground," he notes.
"People talk about 10,000 hours and all the preparation that it takes to master your craft. And I've been performing in front of people since I was a kid and pretty much nonstop for my entire life since I was a kid and there's a value in that," Legend adds. "There's a certain amount of preparation and inspiration and growth that happens from all that time where you get to work on your craft, develop it and then performing in front of an audience."
Listen to John Legend's Audible Living Legends narration and performances here.