Watch John Legend and Muni Long Get Sultry In Their New Visual 'Honey'
The record serves as a single to Legend's upcoming eighth studio album.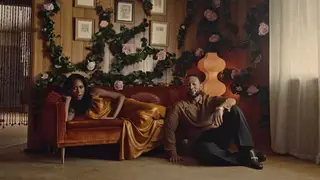 Serving as a follow-up visual to his record 'Dope,' John Legend is trying to piece back an eventful night in his new music video for his record 'Honey' which features Muni Long.
In this 2:42 video, Legend wakes up from a wild night after being stung by a bee and walks around in a room alone, and gathers clues on what occurred the night before — sees a stunning photo of Long on the wall. The video continues with Legend trying to uncover what happened and Long serving up the sexy in a bathtub full of honey belting out her verse.
While we wait for Legend's body of work to drop, enjoy the 'Honey' visual below.