RIP P: The 10 Best Prodigy Verses
The Mobb Deep rapper passed away six years ago today.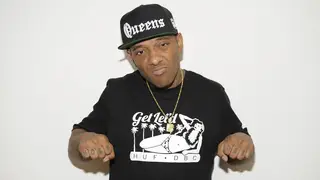 Six years ago, the hip-hop world was shocked by the unexpected passing of one of its greatest emcees.
On June 20, 2017, Mobb Deep's Prodigy died due to circumstances that are still unclear to this day, however, he had been hospitalized due to complications related to his sickle-cell anemia, a condition he spoke about at length about during his life, and even attributed the pain it caused to the dark element of he and Havoc's music during their over-25-year career that was still going strong before his passing.
During his life, Bandana P successfully navigated both a run of classic albums with Mobb Deep while also producing a very formidable solo career. The combination – mixed with some excellent guest verses during New York hip-hop's peak – produced many percipient verses that continue to carry his legacy.
In honor of Prodigy's death anniversary, BET has compiled 10 of his most legendary rapping appearances on wax. Rest in peace, Crime Rhyme Houdini P.
"No Religion"

Album: Hegelian Dialectic (The Book of Revelation) (2017)

Prodigy's final solo album before his death, Hegelian Dialectic (The Book of Revelation), was one of his best efforts to speak profoundly about his worldview while providing many a bar about Black solidarity and triumph. No song on the LP exemplified this more than "No Religion."

"I put truth in the song, but you want lies / I put real in rap music, but you want fake / By the time you understand me it'll be too late / You're so caught up in fantasy land, you're so under the spell / I wish you luck, I wish you well / Real men drink water / We stay with our women, and raise our daughters / And our little men too / And teach them the things they won't teach 'em in school / Like ancient Black history and how to survive in these modern times."

"Back At You"

Album: Sunset Park Motion Picture Soundtrack (1996)

The greatest Mobb Deep foray into film soundtracks was "Back At You." A track off of 1996's Sunset Park Motion Picture Soundtrack, the song, particularly the music video, captured a snapshot of the Queensbridge duo at their lyrical peak. P's second verse and bent nature in the video reinforce why rap fans fell in love with them.

"Live N***a Rap"

Album: Nas' It Was Written (1996)

Queensbridge linked up for the undeniable It Was Written cut "Live N***a Rap," producing one of P's greatest guest verses of all time. The fellow QB emcee shoutouts were also not lost on this one: "Mega got word back from Noreaga / The D.A. got video cassette tape of / The god with the God-U-Now, pullin' a caper / Runnin' up in the spot, mask and duct taped up / Pig-tie they m**********n' wrists to they ankles."

"G.O.D., Pt. III"

Album: Hell On Earth (1996)

Nothing captured the dark and demonic nature that was Mobb Deep's third album quite like "G.O.D., Pt. III." The Hell On Earth single had Prodigy introducing his infamous Crime Rhyme Houdini P moniker while completely taking the head off of his opening verse.

"I Shot Ya (Remix)"

Album: LL Cool J's Mr. Smith (1995)

Is it blasphemy to say that Prodigy had the best verse on LL Cool J's mammoth posse cut "I Shot Ya (Remix)?" We don't think so, especially because he disses Keith Murray on the song right after the Def Squad emcee lays his verse on it. P was still going after Murray and Redman like he did on The Infamous, over that ol' "crazy space s**t that don't even make no sense." Legendary.

"Keep It Thoro"

Perhaps the greatest Prodigy solo song ever, "Keep It Thoro" placed P at the top of the rap world in 2000 – having come off of the critical acclaim from both Murda Muzik from a year before and his solo debut H.N.I.C. Prodigy didn't even wait to get into his first verse on the single to kill it either, just check the first line: "I break bread, ribs, hundred dollar bills."

"Survival of The Fittest"

Album: The Infamous (1995)

An Infamous favorite, "Survival of The Fittest" had P delivering one of his most ominous verses ever over an instrumental backdrop just as harrowing. "There's a war going on outside no man is safe from" is a crazy way to start a verse and further establishes the thematic greatest, the Mobb's breakout LP.

"Quiet Storm"

Album: Murda Muzik (1999)

Who could forget the menacing keys of "Quiet Storm?" While Prodigy's monologue and first verse establish the Mobb's Murda Muzik mega hit, it's his second verse that finds him dishing out an abundance in quotables are in abundance as P reconciles his life before and after becoming a rap star: "Even my pops too, he taught me how to shoot when I was seven / I used to bust shots crazy / I couldn't even look because the loud sound used to scare me."

"Hell On Earth (Front Lines)"

Album: Hell On Earth (1996)

Perhaps one of the more slept-on verses of Prodigy's career, his second group of bars on the title track to Mobb Deep's 1996 album Hell On Earth (third overall) could be considered his best. It's a rare verse that combines an immense amount of ferocity and ability in one extended rhyme.

"The God P walk with a limp, see / But simply, to simplify s**t, no man can go against me / Test me, you must be bent, G, don't tempt me / I had this full clip for so long, it needs to empty / The reason why it's full for so long 'cause I don't waste s**t / You properly hit, blood in your mouth so you could taste it."

"Shook Ones Pt. II"

Album: The Infamous (1995)

"Shook Ones Pt. II" is one of the greatest hip-hop songs of all-time, and along with its trademark menacing beat, it's Prodigy's verse that makes the track so memorable. The quotable, the structure, everything made it why rap fans consider Mobb Deep one of the greatest duos the genre has ever seen. "Rock you in your face, stab your brain with your nose bone" is legendary, however later in the song's opening verse is where it gets particularly vivid: "Your crew is featherweight, my gunshots'll make you levitate / I'm only nineteen, but my mind is old / And when the things get for real, my warm heart turns cold."