Da Brat Shares Why She Isn't Comfortable Being Called A Step Mom And Shares A Special Message To Her Baby Boy
The rapper and her wife, Judy Dupart, also share the requirements of what they want in Godparents.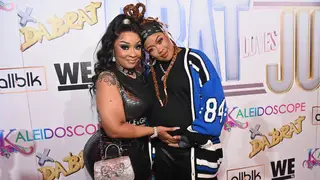 Da Brat and Judy Dupart are back with a third season of Brat Loves Judy on WeTV--fans will see the journey of the married couple welcoming a new member aboard. Ahead of the season premiere, the couple broke the news of their first child together with maternity photos featuring the So So Def artist pregnant.
The couple posted a video of their gender reveal on March 28th, sharing that they have a baby boy coming soon.
In a fun interview with BET.com, the lovebirds talked about what they are looking for in Godparents, why Brat isn't interested in being called a step mom, and a special message to their baby boy.
BET.com: This is your first child together — what's one thing you're looking forward to and one thing you feel may be challenging?
Brat: I'm looking forward to just anything that me and my wife do together, it's just gonna be amazing to raise a little one. I don't really think about things that are going to be challenging – it's gonna be fun and a blessing as I look at everything positive when it comes to this little one I'm getting ready to have.
Judy: I'm looking forward to her finally meeting the baby – it's the most amazing thing because when the baby is in your stomach, you form a relationship with them. After that, you get to see the thing she was creating. I've experienced this with being pregnant before so I can't wait for her to experience it.
BET.com: In the first episode, we see a bit of your parenting styles when it comes to Judy's son, Jordan, and it caused a small rift during a confessional. Have we come to a compromise when it comes to parenting styles and what does that look like?
Judy: No, but we're trying [laughs]. We discussed that when this baby comes, we have to work through things but we are not on the same page. I'll share some background – before the age of 19, I had three children and when I raised them, I was raising myself. I'm not saying I did everything right and not saying I did everything wrong – I do think this time around, things will be a bit different. I'm very sensitive that this is her first child so whatever she wants to do, we're gonna do.
BET.com: Who will likely be the stricter parent and who will likely be the softy?
Brat: As the stricter parent, that would be me even though she doesn't think so. When it comes to our pet babies, she doesn't whoop them. You have to spank them on the butt a little bit and take them to the papers, spank them on the butt, and make sure they use the bathroom on the paper. There has to be a consequence and discipline.
Judy: There's some truth to that but not the whole thing. Until she has a child, I'm not going to speak on it because when you have a child and they are giving you the googly eyes, they will get away with murder.
BET.com: In your conversation with Kito and even in your conversation with Judy, you're very adamant of steering clear from conversations with Judy when it comes to her children and not so enticed with the step mom title. Can you elaborate on your stance with this decision and how are you both working with making sure both parties are comfortable in this new family dynamic?
Brat: I do believe that I am still a work in progress and we're still working on it – I feel like those are her babies and I didn't raise them so I don't want to come in and change the rules from the way she already raised them and had the rules in place. I don't want to feel like a drill sergeant when they feel like they didn't have to do that before when you weren't here and now they don't like me or whatever the case may be. I'm a bit older than my wife so my mom, grandmother, and my dad – they didn't play like you will clean up and do this and that or you'll get your a** whooped. I know things are different now and you can't really do that, but a child has to have some type of consequence. Now that I'm older, I appreciate that.
BET.com: Do we have a name for the baby yet?
Judy: My wife has a name but she doesn't want to tell yet.
BET.com: Social media Is very privy to your relationship with LisaRaye which has its ups and downs — how is she feeling now as she readies up to be an auntie and how is your relationship at this time?
Brat: She's super good and we've been spending a lot of time together – as long as I made sure she knew about the baby before everybody else or making sure she doesn't find out on social media [laughs]. She likes to be a part of stuff and doesn't want to be left out as she's super sensitive when it comes to me and vice versa. Everything is good on our end.
BET.com: You document your unfortunate miscarriage in the series — was that a bit challenging to add into the series? Did you have plans to not even share the unfortunate news?
Brat: We wanted to share it because we were sharing our whole fertility journey. It's something important that we couldn't have left out. Me being Da Brat, I don't like seeing myself crying on television and it still makes me cringe because growing up on the Westside of Chicago, it's a sign of weakness or you just don't let people see you upset because they know how to push your buttons. I learned it helps people and they can relate to our situations more and everything will not always be great.
BET.com: Have we chosen a Godmother?
Brat: There's a long list.
Judy: We were supposed to have done that before our gender reveal so we're extremely behind on that and I'm letting her lead a lot of things. I don't want her to make the decision by herself but I want to make sure it's who she wants.
Brat: It's so many options and do you know how many people have been asking me? I just don't know who – I need to see them with our baby and see the chemistry before I start choosing Godmothers and Godfathers. I trust older people more I think, but I don't want them to be too old – it's hard.
BET.com: Is there anything you want to tell your baby about life or in general?
Brat: That's a good question – Always remain humble and show gratitude. Never take anything for granted and two mommies are better than one.
You can see Brat Loves Judy on Thursdays at 9/8c on WeTV.
---
*This interview has been edited for length and clarity
Ty Cole is a New York-based entertainment reporter and writer for BET.com who covers all things pop culture, entertainment, and lifestyle. Follow his latest musings on Twitter @IamTyCole.