Da Brat Announces She's Pregnant And Expecting Her First Child With Wife Jesseca Harris-Dupart!
The married couple announced the baby news on Tuesday (Feb. 21).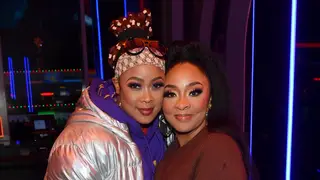 Da Brat is pregnant! The rapper happily announced she's expecting her first child with wife Jesseca Harris-Dupart on Tuesday (Feb. 21).
"It's been quite a journey," says Da Brat shared with People exclusively. "I never thought I was going to have kids. I just thought it wasn't in the cards for me. I've had a great career, a full life. I felt like, because I didn't get pregnant earlier on, then it just wasn't going to happen for me."
Things changed when she met the CEO of Kaleidoscope Hair Products. "I started looking at life so differently. I was like, I want a little me with you. Something special from the both of us that we can share and raise and love unconditionally."
The 48-year-old was initially hesitant about carrying a child, but after deep conversations with her wife, the pair came to a joint decision.
Jesseca explained, "We had a little tug-o-war in the beginning…but I felt like she should have the experience. She is so nurturing."
Da Brat revealed that she's currently in her second trimester and is enjoying the process. "It's just a blessing. I'm excited," she shared with enthusiasm.
FYI: The married couple tied the knot in February 2022. 
To accompany the announcement, the star showed off her growing baby bump with a "gangster-inspired" photoshoot captured by Derek Blanks. Check out the photos here! 
Congratulations to the pair on their growing family!