Exclusive: Anderson .Paak Discusses Sundance Film Festival DJ Set And Rihanna Super Bowl LVII Halftime Performance
The Cali musician also reveals he's working on a new NxWorries album.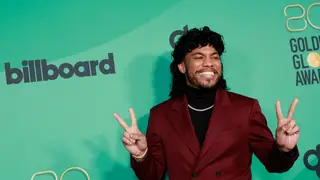 Anderson .Paak's piano-playing cameo during last year's Super Bowl halftime show was one of the most memorable moments of the iconic, Los Angeles hip-hop showcase, featuring Dr. Dre, Snoop Dogg, Mary J. Blige and others, that took place.
The historic performance also preceded the Oxnard, Cali native's extremely popular Las Vegas residency he did with Bruno Mars and Silk Sonic, which took place just a few months later. It's something .Paak says he'd do again if given the opportunity.
Now, in 2023, Anderson .Paak is gearing up for another slate of incredible concerts, festivals and other performances, including a set at the Sundance Film Festival he did last weekend as his behind the 1s and 2s alter ego Pee .Wee.
During an interview with BET.com, just moments before Pee .Wee was scheduled to take the stage for his Chase Sound Check at TAO Park City in Utah, he spoke about what's to come for him this year, including his excitement for Rihanna to take her turn on the Super Bowl halftime stage, his first trip to Sundance, by way of Chase, and even a new NxWorries album he's working on with Knxwledge.
BET: You're performing an hour-long set for Chase Sound Check at TAO Park City, bringing back out DJ Pee .Wee. For you, what goes into preparing a DJ set and does it depend on the audience you're in front of?
Anderson .Paak: Yeah, it definitely does. Sometimes you get like a majority white crowd. Sometimes it's mixed. Sometimes all-Black. Sometimes it's young, old. I'm getting a lot of mixed crowds. I just found out that what I do, like the stuff I DJ, is called open format, so I go anywhere from like Snoop Dogg to Fleetwood Mac. Good music is good music and what I realized DJing is that it's all the same, like it doesn't matter – everyone really appreciates good music. If they don't know it, then they really want to find out what it is, and when they see the vinyl it's like the whole experience.
Sometimes it takes like two or three songs to kind of figure out the crowd, but sometimes right away they're on point. And so yeah, we'll see how it is tonight, but I like to prep and get like at least like the first 10 songs before I'm kind of dialed in.
BET: How is performing a DJ set, for you, different from say a live musical performance as an artist?
AP: It's just less strenuous. Like both things you're providing a service and entertaining but to be able to play a set of other people's music that I didn't compose is I think different feeling to where it's like, people forget about me and they just start dancing and you see the dance floor kind of unite and people don't even know each other but just like dancing with each other. That's a little different than when I do my live show and a lot of the attention is on me and my band, and they're looking at us to kind of take them through this experience and tell the story.
BET: How and why did the collaboration with Chase Sapphire come about?
AP: They do super unique experiences with their cardholders, and I like that. Like, no other people are doing that. Even like my set tonight for the cardholders, they get to come through and experience that. So that was the major thing.
BET: What is it about Sundance that's special for you because you yourself have experience working on movies in different capacities, whether it's Trolls or K-Pops?
AP: Man, it's huge. I've always wanted to go to Sundance, experience it, see some of my favorite movies, going through the festival. I'm just a huge fan of indie movies and documentaries and it's cool to be able to do festivals, like music festivals, like SxSW and Coachella and Bonnaroo and all this stuff. Just to see a festival that is based around film, it's just a totally cool experience and there's a lot of things that are the same and it's dope to be able to just be a part of it and see how excited people are to premiere their movies. I'm just glad and super, super stoked to be here because I always wanted to go and it's dope that Chase got me over here.
BET: What are some of the surprising or crazy things that you've experienced so far?
AP: I brought my son with me for this trip so we went snowmobiling earlier this morning. And then, my room had a kitchen in it, so I made some breakfast and that was probably the craziest thing he's ever seen because I don't think he's ever seen me cook. Everything's all different this trip.
BET: What kind of wardrobe did you bring? Anything special for your set or when you're walking around checking things out?
AP: Something warm. It's a different kind of cold. Like, it's offensive. I'm usually just like, how's it gonna look? I don't really think about the warmth or comfort, but this, this trip around it kind of handicapped me a little bit. I'm thinking about layers and different things like that but I made it work.
BET: Speaking of the mountain west, what was your Las Vegas residency like with Bruno Mars/Silk Sonic last year and is that something you'd consider doing again?
AP: Oh, yeah, absolutely. I loved it, it was really cool. We were so used to doing tours where we have to go all over the world, right? So It could be really hard to stay healthy and pretty hectic, and it was nice for once to have the tour come to us.
Vegas is a place where everybody around the world comes, and to have all types of walks of life coming to that venue was amazing. And we got really comfortable in that venue to where we're trying different things out. And Bruno's such a showman. Every night we were just trying to one-up each other and that was such a fun experience to be with someone that kind of caliber onstage every night, giving it 100 percent and making me give 100 percent. Yeah, anytime he wants to do it, I'm down.
BET: Speaking of performing, you performed in the Super Bowl halftime show last year. How excited are you for Rihanna and this year's production having experienced such an enormous accomplishment like that yourself?
AP: I'm excited, man. I'm glad I don't have to do anything but enjoy the performance, honestly. I hope my [Kansas City] Chiefs take it all the way. And yeah man, I'm super excited to see what she's gonna do, you know? I haven't seen her perform in such a long time and hopefully, we get to hear some of the old hits and maybe she's got some new ones for us too. But I know she's gonna smash it. It's going to be exciting to watch.
BET: The cover artwork for your new J. Cole-produced single with Cordae called "Two Tens" surfaced online recently, and you have a history of working with Cordae. Can you talk about that a little bit?
AP: Super fun, back and forth, like how we do live with the hip-hop, and J. Cole on the production, it's just a mean trio. For some reason we caught a wave – us three – it just always works out. And yeah, this is another fun one, man, it's gonna be a good one to dance to, good one for the party. Not just coming with the lyrics, but not too heavy. It's something that I feel like is needed and a lot of fun, but still kind of filling that void in the sense of like, that back and forth, real hip-hop.
BET: Your sophomore album Malibu turned seven earlier this week. Is it crazy to you that it's been that long and how have you grown from releasing that album to your career now?
AP: No, that is crazy because it seems like it was just yesterday and time just flies. Some things grow and some things disappear – like my hair – and you get older and you can't do the same things and wear the same things but other things get better like confidence and more kids and money. I guess I got definitely financially better and not worried about stuff that I was worried about back then.
It's dope to see that every year people are discovering it and it's new to them. It always takes me back to that time, like damn man, I don't ever want to lose that hunger. So I just try to go into every project with that same type of hunger and curiosity that we had back then, however long ago that was, but I am getting older. It's finding new ways to keep it fun for me, which is why I like to DJ and switch it up because it helps inspire me and keep things fun for me.
BET: What would you tell your younger self now that you're almost a decade into the music business?
AP: Probably like put more money into crypto, probably would've did that. Put a lot in there and then get out. And then also just keeping you, this is gonna pay off because there was a time where it was really tough to do what we did. Not everybody was such a firm believer in what we were trying to do as far as pushing musicianship forward and me being a frontman and a drummer and working and collabing with all these different genres. It wasn't always embraced. Eventually, I felt like the world kind of just started understanding what we're doing and I think it was all because we were just consistent in who we were. We weren't really chasing anything that wasn't for us, and when you're coming up in L.A., that could be the hardest thing. So I'd say, just keep doing you and one day you're gonna go from the thrift store to the Gucci store, but you got to keep it going.
BET: What's coming up next for you in 2023?
AP: I'm finishing up the NxWorries album with Knxwledge and we just dropped a single with H.E.R. called "Where I Go". We got a really awesome album that we've been working on and that's pretty much my main focus. Just taking more walks and hanging out with my kids more.