Donnie Simpson On The Return Of 'Video Soul' And His Legacy In Music
The iconic music show returns on June 1, streaming on BET+.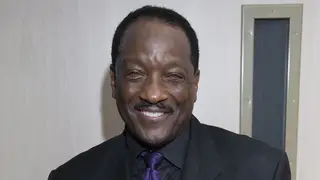 Donnie Simpson is radio, television and BET royalty. Hand-picked by Bob Johnson, the co-founder of BET, to host Video Soul – a job he was hesitant to accept – Mr. Simpson created a television legacy with one of the longest-running music shows in history. As the go-to destination for Black audiences, Simpson interviewed everyone from Tina Turner to David Bowie to Aaliyah. He witnessed the beginnings of Mary J. Blige, Whitney Houston, Mariah Carey, Usher and Sade (Simpson's 1984 Video Soul interview is one of her first interviews in the U.S.). From 1981 to 1996, Video Soul was must-see music television. Now, after over two decades, Simpson is returning to BET with Donnie Simpson's Video Soul. Simpson is not only the host but the owner as well.
The six-episode series premieres June 1 on BET+ and will include interviews with Keith Sweat, Teddy Riley, Shawn Stockman of Boyz II Men, Chrisette Michelle, Syleena Johnson and more.
In a one-on-one with BET.com, Mr. Simpson reflected on the early days of Video Soul, his iconic legacy and more.
BET: Donnie Simpson's Video Soul is returning on BET+. How does it feel, 25 years later, to be back home?
It feels stupendous. For so many years, people have been saying to me, "You should bring Video Soul back." I always kept that in the back of my mind but just in recent years, I thought, "You know what, we should bring Video Soul back, for real." So for me, this moment is not only bringing Video Soul back, but it's bringing it back home to BET. I just can't tell you how excited I am and I can't wait for people to put their eyes on it.
BET: It's a six-episode series featuring your classic interviewing style. In what ways will Donnie Simpson's Video Soul bridge the gap between the older and younger generations?
It's cross-generational. It's something for everybody. When I think back on the original show, it might be the young acts of that day, but we also would have James Brown and Aretha Franklin. It's the same thing today. Music is for everybody and that's what I want Video Soul to be -- multigenerational.
BET: BET co-founder Bob Johnson handpicked you to host Video Soul, but you didn't think it would last because there weren't a lot of Black artists making music videos. Tell us about that.
That's true. Black artists just didn't get those budgets from the record companies like the white artists so we didn't have that many titles. I honestly didn't think that it would last. I said, "I give it nine months!" [Laughs] So you don't ask me about trends... BET, in its infancy, wasn't a very pretty baby. I wasn't sure that it was the right move for me. So I thought about it for two days and then finally, it just came down to this – it's our first Black television network. If you have something to offer, you have to do that – let's go. It was that simple for me and I'm so glad that I did that. It's been a phenomenal ride for me and to watch BET progress. For me to watch it from what it was back in the day when I was there, when the set was as simple as it could be and to watch the BET Awards. It's phenomenal what this thing has grown into, and to have been a part of that growth is very rewarding for me in ways that money could never address.
BET: At what point did you know Video Soul was a hit?
It's going to sound weird, but I probably didn't realize that until after it was done... I'll tell you one very key moment for me. VH1 ran a documentary that was called Black in the 80s. They did one hour and they interviewed me for it. I watched it and the first 15 minutes was about the first Black person to host a morning news show, Bryant Gumbel. They went to the first Black person to host an evening talk show, Arsenio Hall. Then they went to the first Black television show where the couple was a doctor and a lawyer, The Cosby Show. Then they went to Donnie Simpson and Video Soul. I'll never forget it. It was the first time that I'd ever had it put into perspective for me. No matter what it is that you're doing, you just do what you do. So to have it put into perspective, that was just a real revelation for me. I honestly had no idea that it meant that much.
BET: At the time, Video Soul was booming, and hip-hop was on the rise. People may not remember, but hip-hop was getting a lot of backlash. Even some people in the Black community were hesitant about hip-hop. What are your memories of the rise of hip-hop?
If I'm not mistaken, my first interview on Video Soul was with the Fat Boys. At first, hip-hop seemed to be more fun. Then with the gangster rap, a lot of people got scared of it but when I would have these guys on my show, and we talked about it, I understood what they were saying – this is not promoting violence, we're just holding a mirror up. This is what goes on in our communities. That may not be your reality, but it is the reality for some and, and you have to accept that. I hated those radio stations that said, "We don't play rap." Really? So you don't know Biggie's flow? This is always an argument, people say, "They don't make music like they used to," which is true – always has been and always will be true, it's always changing. My ears are always wide open and I want to hear everything. I want to talk to my grandkids. I want to know, "What are you listening to? What do you like?" It's a great example of not writing off what you don't understand.
BET: Being a DJ was your first love, correct?
Still is. I've done radio now all my life – since I was 15. It's all about presenting music to people. That's what I love to do and that's why Video Soul was such a cool fit for me. It's just turning people onto music... I really feel special and honored to have been a part of BET. I'm so glad that this thing that I thought about not doing – that I did. It ended up meaning the world to me. It was an extraordinary ride for me. It put my name in every nook and cranny of this country and several others, just a life that I never could have imagined was because of this.

I had one contract negotiation with BET. I went down to Bob Johnson's offices, this was probably year three of Video Soul. I go down to Bob's office, I walk in and sit down. Bob says, "Donnie, we can't afford to pay you what you were worth." I said, "Oh, all right, Bob," and I left! [Laughs]  And that was that -- I didn't ask for any more money. I never had another negotiation. It didn't matter to me. I was doing well with radio, I should say that, but like I said earlier, the thing that BET gave me was so much more. What amount of money could make up for what I'm feeling now for this return to BET for Donnie Simpson's Video Soul, the friendship that I've had with Bob through the years? This time, I own Video Soul and I have to thank Bob for his guidance. Can you imagine having a better mentor, in terms of business, than Bob? He has been helping me every step of the way to get this done. Whatever money I may have gotten that day, doesn't mean anything next to that friendship and the relationship that I have with the people at BET and the people who watch BET – that's priceless. I had never let money control me. It's not about that.
BET: What do you want your legacy to be?
It's really simple to me. The older I get, the simpler life gets for me, all I want is when I'm gone for somebody to say, "He was a nice dude, man." Obviously, people will talk about contributions to radio and television with Video Soul, but I'll go right back to where I started and that is just have somebody say, "He was a nice man."
Donnie Simpson's Video Soul premieres June 1 on BET+. Watch the trailer below: