LOL: You Must Read Twitter's Reaction to 'Angela Kardashian'
Blac Chyna, Rob Kardashian engagement news is breaking the internet.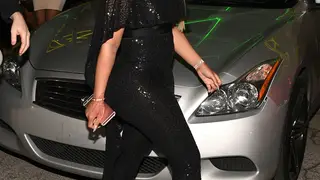 Blac Chyna and Rob Kardashian's "engagement" has sparked all kinds of reactions from social media this morning, but none are better than Twitter's response to what would be Blac's married name, "Angela Kardashian." The moniker, of course, marries Chyna's given first name with her boo's famous last name, and is what would probably go on her marriage certificate if she does decide to take his name.
Fans are not only congratulating the unexpected couple on their big news — though most are still not convinced they aren't just playing with us — but are giving Chyna a round of applause for her perfectly "petty" response to having her life nearly ruined by the reality TV family after her fiancé and baby's father, Tyga, left her for Kylie Jenner.
"Petty" isn't the way you would typically describe engagement news, but this is ChyRo, so, OK...
Black Twitter, y'all play too much! We can't wait to see what happens when these two actually walk down the aisle.
One thing's for sure, ChyRo made believers out of us all. Watch the evolution of their relationship with BET Breaks, below: