30-Year-Old Whose Parents Had To Take Him To Court To Get Him To Move Out Gets Roasted To Oblivion
"Hopefully, they give him a months' worth of shampoo and conditioner before his eviction."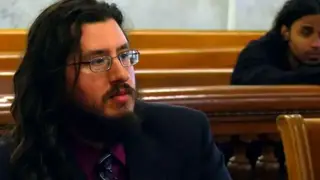 A 30-year-old man from Syracuse, New York, became the face of the "lazy millennial" stereotype on Tuesday after he was ordered by a judge Tuesday to move out of his parents' house.
In court, Michael Rotondo told the judge he acknowledged his parents' repeated demands for him to leave their home. Mark and Christina Rotondo wrote several letters to their son and even offered him $1,100 to help him move out, reported Associated Press.
After Michael took the money but stayed in their house, the Rotondos escalated their fight to the New York State Supreme Court.
State Supreme Court Justice Donald Greenwood suggested Michael work out the issue with his parents; however, when the 30-year-old refused, the judge ordered in favor of his parents. The judge instructed the parents' lawyer to draft an eviction order. Attorney Anthony Adorante said it would give Rotondo reasonable time to vacate.
After the decision, Michael called for television stations to meet him outside the courthouse, where he delivered a bizarre, hair-tossing, interview about why he can't leave.
At one point, Michael said he can't get a job, but he has a business

"My business is my business," he said when asked to elaborate about his business affairs. 

Michael's decision to call reporters immediately after the ruling backfired on social media, where he was roasted like yesterday's chicken

People couldn't help but make jokes about Michael's hair

syracuse.com shared moments from the courtroom and the final interview to YouTube