Reclaim Your Vote: When We All Vote Makes Appeal to Youth Voters
"We must combine our activism in the streets with our votes at the ballot box."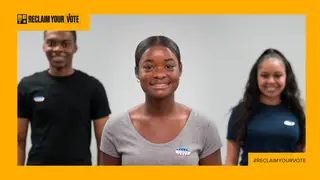 Even though 2018 saw the highest turnout for a midterm election since 1914, nearly 50 percent of voters did not participate. It was also the largest turnout of young people in decades for a midterm election, yet still, nearly two-thirds of young people did not vote.
When We All Vote, a non-partisan initiative launched by former First Lady Michelle Obama, has been working to close the race and age gap in voter participation. Executive Director Stephanie Young says that while there are new challenges that make it more difficult for young people to vote, such as recent provisions that decrease early voting days or invalidate student IDs, there are social hurdles that also play a role.
"Oftentimes barriers for young people are that nobody asks them to vote," said Young, who added "we know that a good percentage of young people didn't vote in the last midterm elections because they said no one asked them to."
Young says When We All Vote has a mission of changing the culture around voting to increase participation among youth and Black voters and is hoping its partnership with BET on the #ReclaimYourVote 2022 campaign can aid in meeting specific goals they've outlined ahead of the midterm elections.  The organization has been working this year alongside other organizations to recruit and train at least 100,000 volunteers, register more than a million new voters and recruit thousands of lawyers to protect voters all around the country.
When We All Vote held a week of action that included a virtual rally featuring former First Lady Michelle Obama and will wrap up today with a Twitter Space conversation on the impact of gerrymandering on communities of color. Other events this week included local voter engagement training around the country and discussions on the state of environmental justice.
In 2020, When We All Vote reached more than 100 million people and helped more than 500,000 people register to vote. In addition to communities of color, they also have a specific focus on youth voter participation and provide financial support for college campus get out the vote efforts.
Young says that given Gen Z is the most diverse voting bloc and that they represent at least 10 percent of the country's voters, part of their appeal to young voters is to showcase the incremental impact that voting can have over time and why it matters.
"Democracy, it's a two-player sport, and it's a steady game," said Young who added "So that's why it's so important for us to consistently invest in it."
And while traditionally candidates have been the ones to make an appeal to voters, given that new laws and proposals have created barriers that impact Black and Brown voters, When We All Vote's 2022 midterm election push is focused on not just reclaiming the vote, but emphasizing its potential for influence.
"We're not going to allow people to scare us or to intimidate us away from voting and away from that power that we have. So, this is us reclaiming literally our power. And not just our vote," said Young.
Young also acknowledges the lack of patience young people might feel especially with issues they are most passionate about.
"Voting rights protect every other right'" said Young who added, "To create real, systemic change on criminal justice reform, climate change, reproductive rights, and all the issues we care about, we must combine our activism in the streets with our votes at the ballot box."
When We All Vote is encouraging your participation in the #ReclaimYourVote 2022 campaign by registering to vote and visiting their website for resources on voter rights to ensure you are ready to vote. You can also join advocacy efforts by starting a chapter in your community or club in your school.
Visit vote.gov to register to vote, check your registration status, and find voter registration deadlines.