Boris Kodjoe Pens Praiseworthy Letter to Daughter on Her 10th Birthday
The actor salutes Sophie's strength and courage in her daily battle with spina bifida.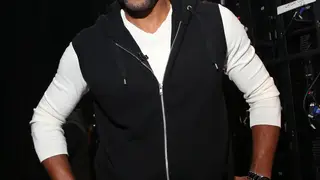 Actor Boris Kodjoe gave fans yet another reason to love him. Not only is the Addicted star easy on the eyes, a solid actor and a great husband, he's also an awesome father.
Kodjoe penned a happy birthday letter to his 10-year old daughter Sophie on Facebook. In it he praised the courageous strength of his daughter, who has battled spina bifida from birth. Spina bifida is a neural birth defect that causes leg, bowel and bladder damage. Some of the loving letter's highlights include:
"The day I met your mother I knew I was ready to be a man. The day I met you I became one," writes Kodjoe. "You've shown me what true strength and courage is and you taught me that love of faith and the faith in love is one and the same."
He continues, "I marvel at the confidence with which you produce miracle after miracle. You smile your way through life and light touches everyone around you." Kodjoe finishes with, "I'm proud of you because you are your mother's daughter, I'm proud of you because you are Sophie Tei-Naaki Lee Kodjoe. Happy 10th  Birthday my little heart. I love you more than you will ever believe."
What a beautiful and wonderful father's tribute to his daughter! We're sure Sophie is equally proud of her father as well.
BET.com is your No. 1 source for Black celebrity news, photos, exclusive videos and all the latest in the world of hip hop and R&B music.
Click here to subscribe to our newsletter.

(Photo: Bennett Raglin/BET/Getty Images for BET)