Girl You Know It's True!: Milli Vanilli's Biopic Has Found Its Leads
Filming is set to take place through December.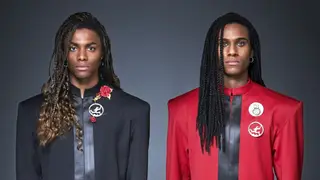 Milli Vanilli is going international as the first look of their biopic Girl You Know Its True has been released.
According to the press release, after five years of searching for the perfect actors to play the duo of Robert Pilatus and Fabrice Morvan, the project has finally found its stars in newcomers Tijan Njie, who is from Germany, and Elan Ben Ali from France.
The film is produced by a European company called LEONINE Studios, with the script written by multi-award-winning producer Simon Verhoeven.
The press release shares that the film will "focus on the true story of the notorious scandal involving dancers Robert Pilatus' and Fabrice Morvan's rise to fame in the late 1980s as pop sensation Milli Vanilli. At the height of their fame, the group wins the Grammy Award, but the situation behind the scenes escalates, and the pressure on Rob and Fab grows. When the truth is revealed, they stare into the abyss while the world witnesses one of the biggest scandals in music history."
Principal photography is set through December 2022 and will be filmed in Los Angeles, Berlin, Munich, and Capetown. 300 Entertainment CEO Kevin Liles has been tapped to executive produce the film.
No release date has been set yet.