Tamar Braxton's Mom Goes Off About Her Messy AF Relationship With Vince
Evelyn is not here for the drama.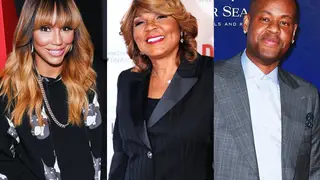 Tamar Braxton's been on an up and down rollercoaster in regards to her relationship with her estranged husband Vincent Herbert. After she filed for divorce, she's both trashed and defended him in the media.
However, one person who is confused by the singer's decision to support her allegedly trifling husband is her mother, Evelyn.
Get more Tamar news with BET Breaks, above.
According to theJasmineBRAND.com, the Braxton family matriarch isn't here for Tamar resuming communication with the man she claimed months ago physically assaulted her daughter. In fact, it is reported that she was completely blindsided that they had been in constant communication, recently.
The site goes on to report that Ms. Braxton was "pissed" when she found out that he was backstage with Tamar during the Atlanta stop of the Xscape tour.
"She was blindsided when she saw him," the source said. "She was heard asking people, 'Why is he here?'"
The singer's mother is said to be confused as to why she would have Vince around after she recently had him arrested on Christmas Day for spousal assault.
This comes on the heels of Tamar telling paparazzi that she and Vince are still "a family" while spotted with him and their son Logan at the airport.