Why Zola's Adventure Is Amazing and Depressing at the Same Time
The tale of two strippers is funny, yet exploitative.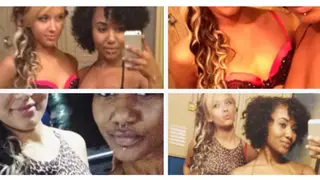 When I saw everyone on Facebook losing their minds over a Twitter story about a young woman named Zola, I was literally confused.
How could a story about two women, one Black, one white, bonding over their "hoe-ism" and affinity for stripping be that interesting? That just sounds like a normal day on Instagram to me. But given the day I had, I said "Why not?" Plus, I'll admit that it's really hard to resist a story that starts off with, "Y'all want to hear a story about why me and this b***h here fell out???"
This trifling tale of stripping and crime follows Zola, a Hooters waitress and occasional exotic dancer, who meets Jess, a stranger who promised her a simple weekend in Florida to make some extra coins.

But very soon after, Zola realizes that Goldilocks got her mixed up with pimps, prostitution, guns and even murder. It's sort of like Thelma and Louise meets Players Club meets Spring Breakers, as the two women — and Jess's naïve and emotionally-stunted boyfriend Jarrett — try to make it out of Florida with their lives and sanity.
But what truly makes this story stand out is seeing this seedy world through Zola's eyes, whose humor had us on the floor. It's clear that Zola is a natural comedian whose timing is impeccable and who can write her tail off. And it's because of all of this that I see why folks were obsessed.
There's also talk about making this into a film with casting suggestions.
But even in all this fun, I wondered was I the only one who had moments of guilt enjoying this story? I could care less if women strip or partake in sex work. It was the exploitation, manipulation, sexual assault and violence geared toward women that had me shaking my head. Because what's funny about that.

I mean, did you laugh when Jess spent her whole night stripping, and then having to have sex with numerous men, to then hand over all her money to the abusive pimp? Or when Z forced himself on Jess to mess with Jarrett's manhood? Or at how desperate Jess was when Jarrett posted on her Facebook what she was really doing that weekend instead of being with her child?
Honestly, it was through that trauma that I began to see Jess not as some deceitful villain, but as someone who desperately needed help, an intervention and a chance. And despite Zola being the strong and witty protagonist, it's hard to imagine that she walked away from witnessing and even partaking in this trauma emotionally unharmed. Perhaps her humor was a defense mechanism to cope with what was going on. Now, it's unclear if the story is real or just some well-orchestrated figment of Zola's hyperactive imagination, but I don't think that really matters, because it's our collective laughter that is real.
I just hope that we're smart enough to realize that our amusement with the Tale of Two Strippers comes off the backs of these young women and the devaluation of their bodies. And if we aren't, what does that really say about us?
The opinions expressed here do not necessarily reflect those of BET Networks.


BET.com always gives you the latest fashion and beauty trends, tips and news. We are committed to bringing you the best of Black lifestyle and celebrity culture.
(Photo: Huffington Post via Twitter)