What About Your Friends? Why Hollywood's Abandonment Of Terry Crews Is Unacceptable
The actor/activist is sounding the alarm on his industry's toxic subculture, but many of his colleagues are covering their ears.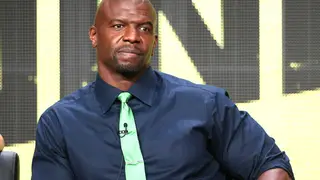 "Let's go to civil rights — the people who were silent at the lunch counters, when it was the Black lunch counter and the white one or the schools were segregated...and you were quiet. You were accepting it. Same thing with men right now. If you don't say anything, you are, by your silence — it's acceptance. I'm not going to be silent." — Terry Crews, December 2014
Terry Alan Crews has never been content with staying silent. This hasn't been easy for a man who has built his career in professions that require men, especially Black men, to play their part in mute compliance and let others do the talking. For a young man from Flint, Michigan, with no connections and few opportunities to make it in the world, it would make sense to keep quiet and collect a check. But, somewhere along the way, Crews decided that speaking up for what he believes in is more important than that.

In a 2014 interview with Sports Illustrated, Crews reflected on his time as an NFL player. In addition to describing the league as a cult, Crews was outspoken about his mission to expose the many toxic elements the league hides in plain sight. From neglectful doctors who recklessly prescribed painkillers and overlooked concussions, to coaches and executives who treated players like disposable assets, many of the same issues at the core of the league's current culture war were considered business as usual in his day.
Most people today have all but forgotten about Crews' stint in the NFL. But during Crews' seven years as a pro in the '90s, few would have guessed the journeyman gladiator would seamlessly transition to Hollywood star less than ten years after his final snap. Now, he has nearly fifty acting credits under his belt, including starring roles in The Expendables franchise and beloved sitcoms Everybody Hates Chris and Brooklyn Nine-Nine. Fewer still might have pictured him on Good Morning America sitting face-to-face with Michael Strahan (another former football player) revealing himself as a victim of sexual assault in front of millions of people. But if they had been watching him closely during his days on the gridiron, they might not be so surprised. Terry Crews has been sounding the alarm on toxic subcultures for decades. And his latest target is Hollywood.
In February of last year, Crews and his wife attended a party at the home of Adam Sandler in the Hollywood Hills. There, he met Adam Venit, an industry power player who was Sandler's agent and the head of the motion picture division at mega-agency William Morris Endeavor. "He's connected to probably everyone I know in the business," Crews said about the agent, who represents not only Sandler, but Oscar winners Emma Stone, Diane Keaton, Eddie Murphy and many others. "I did not know this man. I have never had a conversation with him, ever. … The first time I ever had an interaction with him was at this event."

Crews said Venit stared at him from a distance and stuck out his tongue in an "overtly sexual" manner before approaching him. "I stick my hand out and he literally takes his hand and puts it, squeezes my genitals," he recalled. "And I jump back like, 'Hey, hey!' … I go, 'Dude, what are you doing?'" It didn't stop there. "And then he comes back again and he just won't stop," Crews recalled on GMA. "I have never felt more emasculated, more objectified. I was horrified. I went over to Adam [Sandler] right then and there and said, 'Man, come get your boy. What is his problem?'"
Crews says for a split second he considered fighting Venit, but held himself back: "'240 lbs. Black Man stomps out Hollywood Honcho' would be the headline the next day," he wrote. "Only I probably wouldn't have been able to read it because I WOULD HAVE BEEN IN JAIL. So we left."
That was last year. Crews says he remained silent about the incident for the same reason so many women brush off experiences with sexual harassment:

Those tweets were part of a thread that Crews posted last month in the wake of the Harvey Weinstein scandal. The exposé gave him "PTSD," as he describes it, and also compelled him to come forward with his own story of sexual assault eighteen months after the fact. Two weeks ago, Crews filed a police report naming Venit as his attacker and his appearance on Good Morning America pressured William Morris Endeavor to take action, suspending the agent indefinitely. For a brief moment, it seemed like Venit would be another pillar to fall in the #MeToo movement.

But the 54-year-old Hollywood veteran is, as Crews put it, "connected to everyone" in the industry, and his accuser was a Black man, not a young White woman. While it was expected that it would be an uphill battle for Crews to rally support as a victim, the deafening silence that came after he went public with his allegations has to be truly surprising, even to the biggest cynic. As of Tuesday, one month after his suspension, Adam Venit was back at work.

WME is in the business of making money, and since correcting social ills isn't as profitable as capitalizing off of them, Venit and his fellow genital-grabber Donald Trump remain gainfully employed. For similar reasons, Colin Kaepernick is still jobless.

And now, Crews faces an even steeper climb than Kaep on his quest to expose and correct his profession's corrupt code. But he is undeterred, and he isn't stopping with Venit. In the days following his GMA interview, Crews put the entire system that is complicit in keeping predators like Venit from being held accountable on blast.

First, he exposed the tabloid Radar Online for threatening him with a fake story about hiring prostitutes:

Then he implied a conspiracy between the LAPD, TMZ and nefarious Hollywood insiders that resulted in the stalkerazzi discovering his police report before his own wife:

On Monday, after learning that Venit would soon be back on the job, Crews tweeted out proof of what he was up against as a Black man and victim of sexual assault seeking solidarity in Hollywood.

In an effort to gain support from a colleague who should be sympathetic to the pain of seeing his abuser walking around town like nothing had happened, Crews remixed a 2006 letter written by power agent Ari Emanuel (now the co-CEO of William Morris Endeavor) that demanded Mel Gibson be held accountable for his anti-Semitism. In the new letter, Crews simply replaced Gibson's name with Adam Venit's and the term "anti-semitism" with "sexual assault" and gave it to Emanuel:

But, perhaps most devastatingly, Crews has been compelled to expose the lack of support from his own community as he's put his career, reputation and livelihood on the line to stand up for what's right. Wendy Williams was quick to throw him under the bus. "I was asked in my meeting this morning, do I think it was brave of him to come out. I said, 'No, it's not brave, he's just talking,'" she said on her talk show shortly after Crews' GMA interview. Under the cover of feigned concern for Crews, Williams continued to question his decision to speak out. "It may have a really negative effect on his career, do you know what I mean? Being all Black and being all chatty and this agent... He named names y'all. Terry's going in."
And then, there's Russell Simmons, himself accused by several women of sexual harassment and assault and who, as of today (November 30), has resigned from his companies in the wake of the allegations. Crews exposed the former Def Jam mogul for attempting to silence him — again, under the guise of concern:

Sadly for Crews, the vast majority are too caught up in their own personal battles (or accustomed to their privilege) to maintain an NFL boycott or stand steadily with victims of sex assault. It's why some former and current players sided with their owners over their fellow athletes and why most of Crews' closest comrades in Hollywood, including several approached by BET.com, have yet to speak up in his defense.
Social media continues to give vulnerable people a powerful tool to expose abuses that were once invisible to the masses. But exposure is only a first step; it is only effective if we're willing to listen and respond.
No matter how much light social media shines on Hollywood's void of moral and artistic integrity, things won't change there any sooner than they have on Wall Street, in Washington, D.C., or in NFL owner's boxes — unless those among us with the most to lose are willing to lead by example.

Terry Crews understands that he is in a unique position to speed up that progress. So, instead of internalizing his abuse and spreading it to others with toxic actions of his own, he is taking the steps necessary to break the chain before our eyes.

His outspoken support of all victims in the #MeToo movement and admission of his personal experiences will make him alien in a world that demands men, especially Black men, only radiate hyper-masculine energy. 

Along the way, Crews will be mocked. He will be called names. But that's nothing new in the world of sexual assault or general American discourse.

Time will tell the truth about Crews, his critics and the Hollywood network that made this all possible. And sooner than later, he, like Kaepernick, will take his place on the right side of history.