Unboxed Vol. 1: Fantastic Negrito Boldly Re-Examines Race By Looking Into His Ancestry
The Oakland native keeps making innovative blues with 'Grandfather Courage', an acoustic version of his racially charged 'White Jesus Black Problems' album.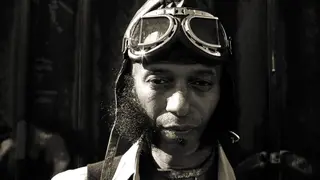 Unboxed is a new BET.com series highlighting Black artists who think 'outside of the box,' when it comes to their music. 
Oakland experimental blues artist Fantastic Negrito has been putting out riveting music since his 2016 breakout album, The Last Days of Oakland, made him a household name in blues circles both nationally and nationwide. Earning a Grammy for "Best Contemporary Blues" album award for it, he would hit a three-peat once follow-up albums in 2018's Please Don't Be Dead and Have You Lost Your Mind Yet? in 2020 earned the same awards.
Last year, he upped his ability to create provocative music by releasing White Jesus Black Problems. The album alongside the accompanying film told the story of his seventh-generation white Scottish indentured servant grandmother Grandma Gallamore and nameless enslaved Black grandfather living in common law marriage openly in 1750s Virginia. Praised for his bold and unique take on race from the past to the present, Fantastic Negrito is back with an acoustic version of White Jesus Black Problems. Named Grandfather Courage, the album is based on the name he gave his grandfather who didn't have a recorded name.
Speaking with BET.com, Fantastic Negrito talks about his re-imaging of White Jesus Black Problems through Grandfather Courage, how those projects allowed him to deconstruct the concept of race, why he shuns the music business and more.
BET.com: White Jesus Black Problems was released less than a year ago in June. Why come with an acoustic re-imaging through Grandfather Courage so quickly?
Fantastic Negrito: I think the key is always to do things that inspire you. If you're inspired, do it. I've always felt that way as an artist and if I feel it I simply do it. Not only to do an album but do a film and then reimagined an acoustic version because it's just such an important story to me to tell.
BET.com: Can you discuss the approach you wanted to take for the Grandfather Courage in retaining the spirit of White Jesus Black Problems while sonically sounding so different?
Fantastic Negrito: Well, the way I approached it is that I wanted to kind of imagine myself as some college student living in a dorm that heard the record and thought it was good but wanted to completely strip it down bare and do it from someone else's perspective. Kind of imagine myself being someone else. And I think that's one of the benefits of being creative that you need to. It's great to challenge yourself and to find discomfort. It is when the greatest things emerge.
BET.com: What was the most challenging track from White Jesus Black Problems to readapt for Grandfather Courage?
Fantastic Negrito: I didn't want to look at it that way because the idea to make was to make it completely different or even unrecognizable. If it was unrecognizable, I feel like I had achieved more of the goal.
BET.com: Looking back on the creation of both albums, have you found yourself reflecting on your own journey as a black man as you deconstruct the concept of race?
Fantastic Negrito: Absolutely. It was extremely enlightening and extremely informative, and I think it really helped me understand not only as a black man, but just the construct of that word, the construct of race.
The fact that I thought it was pretty incredible that my ancestors were able to live after they had made such a decision. They decided to make this very unconventional family right on a tobacco plantation. They could have taken this man out and lynched him and killed the woman but they didn't. I thought to myself as I wrote the song "Highest Bidder" that it's really about money. People use race as a way to hide their real motivation which is to make as much money as you can off of human beings. Race is used as a weapon and a tool of distraction for people to achieve their greediness. I think it's an ongoing process of thinking and rethinking this idea of this thing in America. We're particularly obsessed with race.
BET.com: You're already a three-time Grammy winner and you're already nominated this year for "Best American Roots Performance" for "Oh Betty." What do accolades as prestigious as that do for someone like you?
Fantastic Negrito: I just don't think about awards or Grammys or anything like that. I never ever thought about it. I used to play at a train station and I wanted to make the kind of music and art that was creative in a way I saw it and not according to anyone else. It's fine when people and your peers recognize what you do. I never think about it. I don't put it on my website like "I'm a Grammy winner" and don't keep the Grammys in my house or anything. I love creativity and I love art. That's what I strive for every time.
BET.com: I always considered you the face of contemporary Blues. There are other Black genres where you see artists get signed or get pushed after artists become successful. Why haven't you seen Black blues artists like yourself emerge in popularity mainstream-wise?
Fantastic Negrito: I don't know but for me, the beautiful thing is I never think about the music business. I think that's how you have your sanity and peace. I live on a farm and I never really think too much about the music business. What I do think about are songs, music, production and freedom. I know that not only with music, but I know the country and society we live in is totally obsessed with profits and money. I think that's what big labels or successful labels are about; whatever they can make the most money on. I think that's easiest to sell to people without making them think if you look at popular music today. I listen to my son's music and they're obsessed with hoes, money, murder and death and that sells. They keep putting that out there no matter how much damage it's doing.
BET.com: What's piqued your curiosity musically outside of what you have going on?
Fantastic Negrito: I listen to anything that is coming down the highway so to speak. A lot of the music that I described is stuff that your kids listen to, I'll check it out. I will listen to it all like Lil Yachty or Lil Baby and all that stuff. In popular music, there are incredible artists like Kendrick Lamar. He really is someone that is quite incredible and creative as a storyteller, writer and musician. Then when it comes to music in general, I love Sister Rosetta Thorpe and Fela alongside hip-hop that's coming out of the UK. When I think about musical inspirations, I really like Miko Marks who is a country singer and a Black woman. She's really amazing and I think people should check her out.