Jay-Z Is Reportedly Coming For Harvey Weinstein's Abandoned Throne
The movie mogul's sex scandal leaves a power vacuum in Hollywood.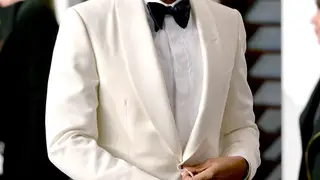 Jay-Z is looking to make the best out of a bad situation. Days after Harvey Weinstein was fired from The Weinstein Company due to multiple reports of sexual misconduct, Hov has reportedly begun talks to purchase Harvey's remaining interest in the company.
According to TMZ, Hov will be reportedly working alongside "several other investors including a famous movie producer and a billionaire," to acquire Weinstein's 23 percent interest in the company. Since his abrupt departure, Weinstein is said to be "looking to acquiring a substantial equity stake in the company."
Earlier this year, Jay-Z produced Time: The Kalief Browder Story along with Weinstein and the Weinstein Co. He also has a series of upcoming projects with the Weinstein Company including an adaption of Lin-Manuel Miranda's In The Heights, a Trayvon Martin miniseries, a program exploring race in America hosted by Jay-Z, and a Richard Pryor biopic.
See more Jay-Z news with BET Breaks, above.