Megan Thee Stallion Tackles Trauma and Infidelity in New Single 'Cobra'
"Just as a snake sheds its skin, we must shed our past, over and over again."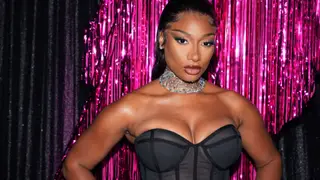 Megan Thee Stallion is shedding layers in more ways than one.
The rapper's latest single "Cobra" provides a harsh critique of unfaithful partners, opportunistic friends and the challenges of hitting rock bottom in life.
This song is full of juicy topics, from her departure from her longtime label 1501 Certified Entertainment to the conclusion of the criminal case against Tory Lanez, who was sentenced to prison in August for shooting Meg in the foot.
Having dropped late Thursday evening (Oct. 3), the track kicks off with Meg vocalizing the song's central theme, acknowledging her tumultuous year: "Just as a snake sheds its skin, we must shed our past, over and over again."
The music video sees the rapper baring her snake eyes and fangs as she slithers out of the mouth of a large serpent that had just shed its skin as the ominous electric guitar chords of the music start. It gives metaphor on top of metaphor.
The Houston Hottie raps about missing her parents, contemplating despair and relying on alcohol for solace with a guy who views it as casual celebration shots with the Hot Girl. She delivers rhymes like, "At night, I'm sittin' in a dark room thinkin' / Probably why I always end up drinkin' / Yes, I'm very depressed / How can somebody so blessed wanna slit they wrist?"
While the chorus throws shots at her critics with lines such as, "This p**** depressed, I'm about to stress him," in the second verse, Meg also appears to allude to the reason for her rumored breakup with producer Pardison Fontaine, with whom she went public in February 2021, in the second verse: "Pulled up, caught him cheatin', gettin' his d*ck sucked in the same spot I'm sleepin'."
"Cobra" is the perfect combination of her hit songs "Anxiety" and "Thot S**t," as it triggers a range of emotions, from wanting to shed tears to the desire to twerk in true Meg fashion.
According to a press release shared with POPSUGAR, "Cobra" signifies a "revitalized chapter in the Houston native's career" for several reasons, including that it's the first release under the Grammy-winning rapper's newly established independent music and entertainment venture, Hot Girl Productions.