50 Cent Wants Fans To Boycott Starz Until His Show Make A Comeback
'Power Book IV: Force' just wrapped up Season 1!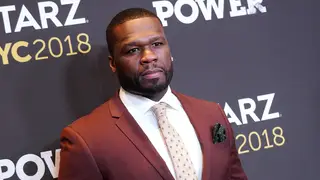 Rapper and entrepreneur 50 Cent is calling on his fans to cancel their Starz subscriptions until his shows return the network.
With Power Book IV: Force wrapping up Season 1, Fif headed to his Instagram to share his complaints about Starz.
"Somebody made a big mistake, but let's just act like we don't see it Chicago," the media executive said in the caption in part.
In the clip, he shared a video of radio host DJ Pharris pleading with listeners to retire Starz for six months until 50 Cent's hit series BMF and the Power Book universe return for their next seasons.
"I know you saw the last episode of Tommy [Egan]. You saw 'Force' right? That's it. It's over. It's a wrap, so check it out. No 50 on Starz for six months, so we're shutting it down. No Starz for six months. That's right you heard me. No Starz for six months till 50 come back," DJ Pharris said.
"When 'BMF', Tariq [St. Patrick of 'Power Book II: Ghost'], Tommy, and all that come back, that's when we come back. See y'all in six months."
A similar video was shared on Fif's Instagram from DJ Envy of The Breakfast Club who called on viewers to put a pause on Starz but to keep a lookout for a new real estate show he and the rapper are working on together.
This isn't the first time that Fif has aired out his grievances with Starz, he shared his thoughts about the network back in March where a few fans responded with their support.